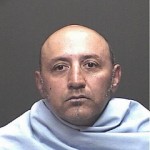 Edward Gomez Nava, the driver arrested in connection with the fatal hit-and-run crash earlier this month, was indicted on eight felony counts, according to Kim Smith, the Arizona Daily Star's courts reporter.
In addition to a second degree murder charge and hit-and-run charges, the attorney's office added four aggravated DUI charges in connection to the crash that killed Albert Eugene Brack, who was riding his bike in the striped shoulder on Escalante Road on Tucson's east side.
Smith, in her blog, also noted Nava was charged with something she had never seen before. Here's what she wrote:
Albert Eugene Brack

Nava has also been indicted on an interesting charge called "causing death by use of a vehicle when license revoked or suspended."

The indictment says Nava shouldn't have been driving because his license was revoked or suspended or because "the license was falsely or fraudulently obtained."

Calls to two attorneys in the vehicular crime unit of the Pima County Attorney's Office weren't immediately returned to shed light on why, exactly, Nava was indicted on that last charge.
According to the indictment, Nava has been convicted of two DUIs in the last 84 months.