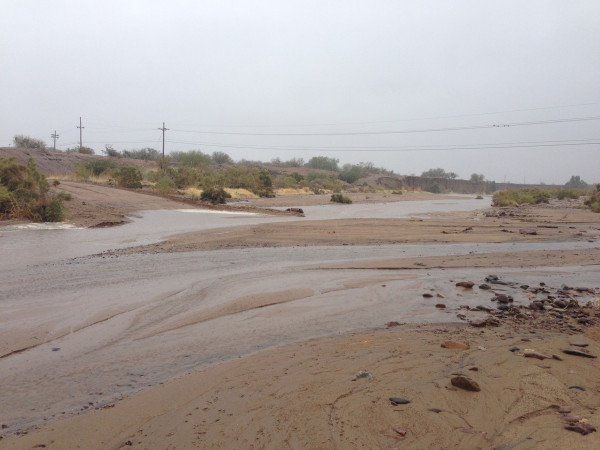 The Arizona Daily Star has confirmed that Perimeter Bicycling Association has met with local officials and are considering rerouting some of the course because of potential flooding.
Event organizers said during a press conference that the decision to reroute sections of the event will depend on the conditions tomorrow morning. They will make final decisions about rerouting at 4 a.m. tomorrow morning.
Here is a snippet from the article:
Officials have confirmed staffers with Pima County, the city of Tucson and the National Weather Service met with the El Tour organizers earlier today to discuss an alternate route for cyclists if continued rainfall leads to flooding in the east Catalina foothills area.
The Star reports that the decision will be made at 4 a.m. tomorrow morning.
The Santa Cruz crossing was not discussed in the Star's article, but Chris Florko, a Tucson Velo reader sent in these photos of the wash crossing. Florko said the man walking his bike sank to his knees at one point.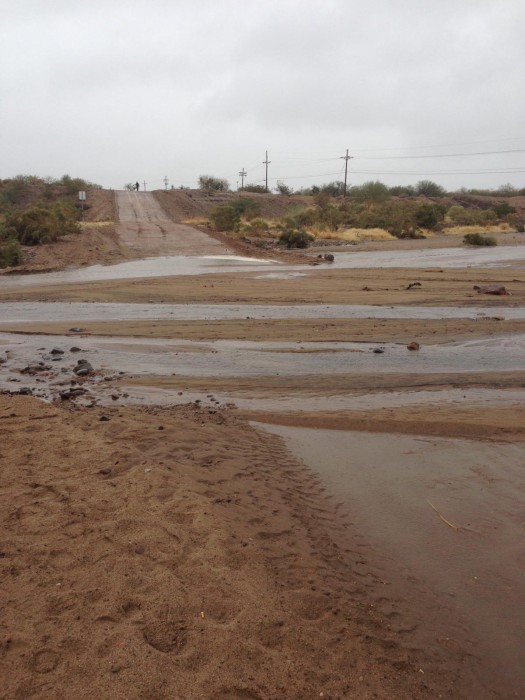 Overheard from a race organizer a minute ago – there is "no chance" that the race will be canceled tomorrow.

— Joe Ferguson (@joeferguson) November 22, 2013
DeBernardis said if the two feet of water currently in the Santa Cruz disappears by 5 am, the current route will stay in place. #ElTour

— Joe Ferguson (@joeferguson) November 22, 2013
If there is water in the Santa Cruz, officials will reroute the race around the river, DeBernardis said. #ElTour

— Joe Ferguson (@joeferguson) November 22, 2013
Marana, Oro Valley may also reroute portions of race, DeBernardis said. Decision to be made tomorrow morning. #ElTour

— Joe Ferguson (@joeferguson) November 22, 2013