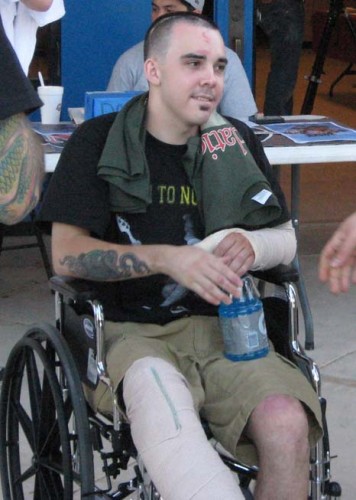 William Abate, the father of the cyclist who was severely injured in a hit-and-run crash in May, sent an update about his son's progress.
Here is some of what William had to say about Sam:
Sam has had some remarkable recovery and healing in the past month. He is still doing physical therapy and we are currently addressing issues with his neck because of whiplash, and strength issues for his legs and arms. In true Abate form, Sam annihilated his cane and has been walking well for several weeks. While we all are amazed at how well his bones are healing, we realize that Sam will have physical scarring issues for some time. The sheer severity of his road-rash has left black streaks (looks like someone had a fun time with a Sharpie) all over his body.

Sam had a day of cognitive testing done earlier this week and we hope to get a better prognosis of his brain injury soon. As with many victims of this type of trauma; Sam has had to work his way through some depression and acceptance issues around his current place in life. As we were forewarned by so many of you, the physical healing is the easy part, as it is just a matter of time. The challenge Sam faces every day are those that are a result of a traumatic brain injury. And, like anything else, he has good days and bad days…
William said the family learned last month that prosecutors were considering a plea deal for the woman accused of hitting Sam. The deal has since been pulled off the table. William said a trial date has not been set.
He closed his letter with some more positive news about Sam.
I will leave you with a positive note. Sam will be attending the U of A this fall. As Sam put it, "I have been held back long enough!" He is currently making arrangements with special services at the U of A to attend two classes.

Thank you for your continued thoughts and prayers, we are seeing the results!

Bill