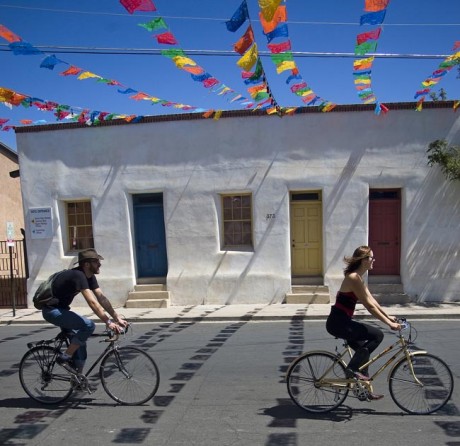 Editor's note:
Be sure to check the site this afternoon to see photos from the Tucson Velo / Chris Hinkle photo booth at Cyclovia.
Also, check back tomorrow for a post about the streets in Tucson that are most like the Cyclovia route — with low traffic and safe crossings.
Thousands of cyclists, walkers and rollers turned out for the second Cyclovia Tucson on Sunday.
Five miles of streets through Tucson and South Tucson were closed to automobiles and people of all ages played in the streets.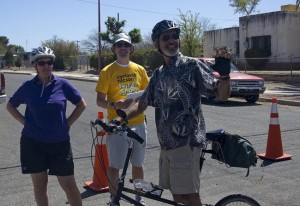 First-time participants, Jay and Gail Rochlin had a great time.
"I was completely charmed," Gail said. "What a great way to have a community event about bicycles, but not about racing. This was the opposite."
Jay was equally enamored with the ride.
"I think I might have seen people in the ride from 6 months old, into their middle 70's, all out there being happy, enjoying themselves, smiling, appreciating Tucson, appreciating our perfect weather," Jay said. "It was a wonderful, wonderful Tucson experience. I am just really grateful to everybody who took the time to make it is as good as it could be."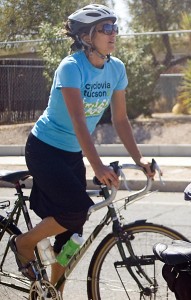 Cyclovia director Daniela Diamente said the countless hours of work were worth it, but it didn't hit her until she got a few minutes to watch.
"When I sat down to eat, I just saw all these people flooding back and forth in both directions across the intersection," Diamente said. "I was like 'Whoa this is awesome. It works.'"
She said she was really happy with the route, which started at Armory Park on the north side and headed into South Tucson.
"People liked going into South Tucson and South Tucson liked having it there," Diamente said. "That is what we want. We want it to be something the neighborhoods embrace and I think that happened today."
Jay Rochlin said he had spent time in many of those neighborhoods taking photos and attending events, but he saw things today that he'd never seen before.
"My favorite part of the ride was rediscovering the beauty, charm and culture that is Meyer Street," he said. "It was fantastic."
Gail really enjoyed the car-free streets.
"I thought the view looking back toward downtown on 8th Avenue, with a couple of miles of no cars and only bicycles to be seen was pretty great," she said.
Counts were taken at several locations around the route, but the numbers haven't been tabulated yet. Despite that, organizers said, anecdotally, it seemed like the route was busier this year.
"I rode the route a lot last year and a lot this year, but seemed like more people were out this year," Ann Chanecka, a Pima Association of Governments planner said.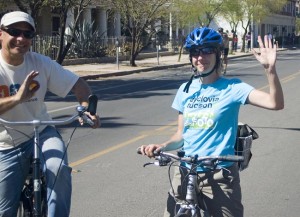 Chanecka helped organize the count this year and said they would have the numbers soon.
Matt Zoll, the county's bicycle and pedestrian program manager, participated in the count. He said during the 15-minute count, more than 300 cyclists and 30 pedestrians passed though the intersection of 36th Street and Eighth Avenue at 1 p.m.
Diamente also thought more people were out today.
"The sense that I've gotten is that there were way more people on the route," she said.
Overall, organizers were pleased with the event. In a conversation with a Tucson police officer who was overseeing the road closures, Tom Thivener, the City of Tucson bicycle and pedestrian program manager, said the whole event went smoothly.
The officer agreed and said they didn't receive any calls or complaints and thought the event was a success from the police department's standpoint.
Thivener said one ambulance was called for a cyclist who fell, but he only had minor scrapes.
Jay said there was one thing that could be improved.
"I think it is a shame it is once a year," he said. "It would be an improvement if it happened more frequently."
That is something Diamente said could happen with the support of the people who participated today.
"Realistically if we got the support of all those people that were out there today to help make it happen and to show their support in different ways, whether that is donating or making some some sort of statement about their support of Cyclovia, I think we really can move quicker than not to having these more often than once a year," she said.
To find out how you can get involved, donate or even buy a t-shirt, check out the Cyclovia Tucson website.
Did you go? What did you think? What was your favorite part?