My family and I spent last week vacationing on the beach in Oceanside, Calif. While we did take our bikes, we didn't ride them as much as I had hoped. We got in a few rides, walked a ton and checked out the regional train system.
Oceanside is considered one of the more bike-friendly communities in Southern California and was awarded a bronze bike-friendly designation by the League of American Bicyclists in 2008. According to the City of Oceanside they have "nine miles of bike paths, 17 miles of bike routes, and 70 miles of bike lanes."
In the areas where my family and I roamed, we didn't see a lot of new infrastructure since the last time we visited two years ago.
However, the city has added numerous bike racks. We saw dozens of these racks.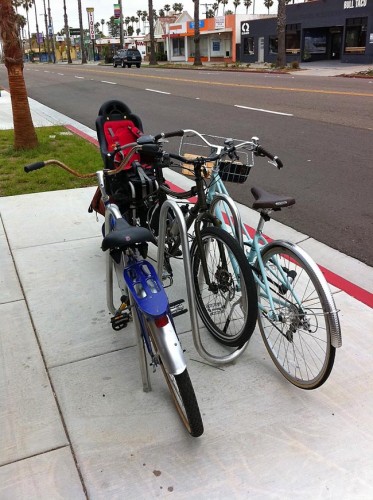 Pacific Street runs parallel to the ocean and is a main thoroughfare for bikes. The street doesn't have bike lanes, instead it utilizes sharrows. Sometimes the placement of the sharrows was a little too close to the parked cars, which puts cyclists at risk for getting hit by a door. Some of the sharrows were in a position that keeps cyclists out of the door zone.
Also new since we visited two years ago is a bike valet at the weekly craft and farmers market. When we went by though, there were only a handful of bikes utilizing the service. The service is run by the Oceanside Bicycle Committee.
The vast majority of bikes I saw in Oceanside were beach cruisers.
But there were also some more unique bikes rolling around town. This pedal-powered ice cream cart rode up and down the beach walk.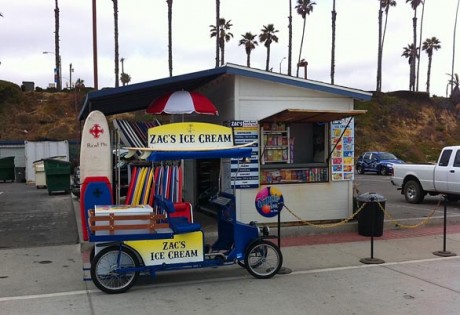 They are even using tall bikes to advertise businesses.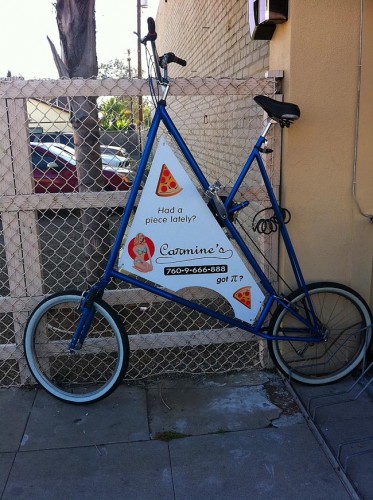 Even the artists in Oceanside support bikes.
Although not everyone is on board. This gift shop wanted to make sure people weren't parking bike in front of their shop.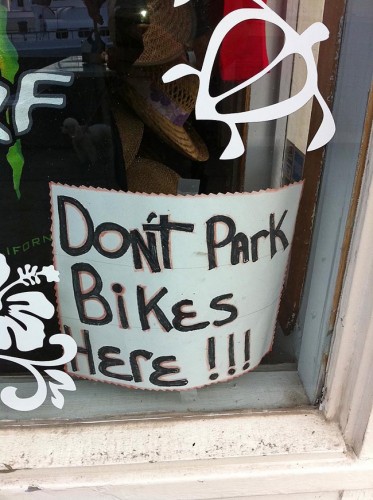 One of our best experiences — from a transportation point of view — was the train system, which appears to integrate bikes decently.
The transit station in Oceanside provides covered bike parking.
Every other train car was designated for bicycles with a space in the back for cyclists to park, although it could become full quickly.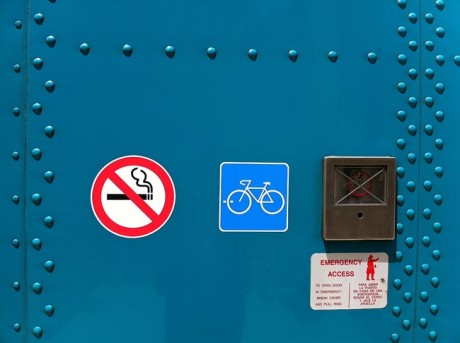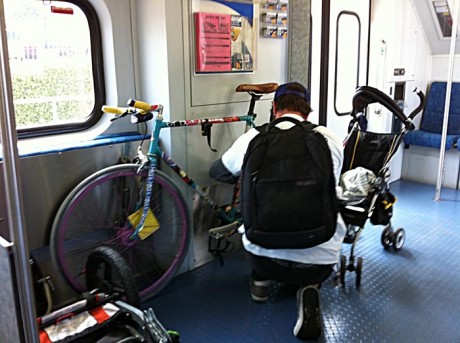 Overall, I was impressed with the number of cyclists out and about. There were far more cruisers than anything else, many of the people on cruisers seemed to be locals using their bikes to get places and carrying their surfboards or fishing equipment, but a large number were also tourists who had rented a cruiser for the day. On the weekend there were large groups of roadies out for a weekend ride. Interestingly, in the whole week were were there, I did not see a single cargo bike.
Check back tomorrow for a post of people on their bikes, Oceanside edition. After that we'll return to Tucson cycling.