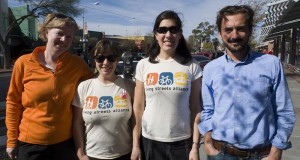 Mia Birk, the bicycle planner who is largely credited with transforming Portland into one of the premier bicycling cities in the country, blogged about her time here in Tucson as well as in Bloomington, Ind.; and Billings, Mont.
Here are a few of her thoughts about Tucson. Many of her ideas mirror the sentiments she expressed in an article on Tucson Velo, but there are a few new thoughts.
Tucson is interesting in that it has bike lanes on most major roads; the other two do not. But Tucson's ridership has stagnated for the past decade. To me, this suggests that a different strategy is needed, one that appeals to the "interested but concerned" cyclist who is uncomfortable cycling on major roads, even with bike lanes.

In all three, I could see a tremendous opportunity for bike boulevards (aka neighborhood greenways) to help reach this group. The absolute best way to understand these is to come out to Portland to an upcoming training workshop hosted by the Initiative for Bicycle and Pedestrian Innovation. Second best is to check out this 7-minute StreetsFilm video for an inspiring overview on why neighborhood greenways are a great way to get more people out riding, especially those with kids.

Another key to success is to focus on women – create conditions (off-street paths, neighborhood greenways, and protected/separated bikeways on major roads) where women will feel comfortable.

And offer women-specific repair classes and rides that focus on fun and delight rather than fear of being hit. Use these rides to show the most comfortable and attractive routes, rather than the  major road routes that may be fastest but can be terrifying.

One of the absolute best ways to do this is to hold Ciclovias, whereby the streets are open to cyclists and pedestrians while car-free. These events are simply amazing, eye-opening, game-changing, and delightful. Again, the best way to understand is to experience first-hand, second best to watch a StreetsFilm video. The second annual Tucson Ciclovia promises to be fabulous.
Read the rest of her blog here.