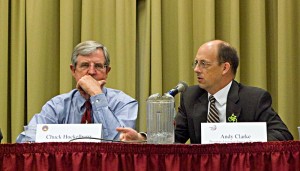 League of American Bicyclists president Andy Clarke is returning to Tucson just four months after his last visit to participate in a workshop designed to help public officials get bicycle projects funded.
The Action 2020 Workshop — a project of Advocacy Advance, which is a partnership between the League of American Bicyclists and the Alliance for Biking & Walking will take place on Sept. 16 in downtown Tucson.
The invitation-only event is the first one in the country and will feature a keynote panel of elected officials, including Mayor Bob Walkup and State Representative Steve Farley. Organizers said they were hoping to add Congressman Raul Grijalva to the panel.
The workshop is being hosted by Living Streets Alliance in collaboration with the Pima Association of Governments.
Living Streets Alliance director Emily Yetman said there was a national call for applications and LSA was one of five groups selected to host the workshop.
For Yetman, hosting the event is a big win for the fledgling advocacy group.
"It is a great opportunity to gain a little bit of exposure in the community and help us meet more elected officials so thy know we are here," Yetman said.
In addition, she said, it will bring more exposure to the region and will hopefully bring more funding for bicycle and pedestrian projects.
The workshop will focus on educating civic leaders about various funding sources, how to overcome obstacles in receiving funding and how the funding timeline works.
Check out the LSA's post about the event and learn more about it on the Advocacy Advance website.
Clarke visited in May at the invitation of the group working on the region's bicycle friendly application. During his time here, he made it clear Tucson needed to get more people on bikes who were riding for transportation. Check out the stories about his visit here.