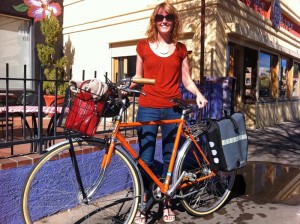 Local biking and walking advocacy organization, Living Streets Alliance, was awarded a $15,000 grant from Advocacy Advance this week.
The matching grant will go toward hiring the group's first full-time director.
Emily Yetman, LSA's president and founder said the board — without her input — decided to hire her as the group's director.
In addition to helping pay for her salary, Yetman said the funds will help launch a pedestrian safety campaign as well as pay for staff positions.
Yetman said it was time to start hiring and paying a staff.
"Trying to run an organization for a year and half on 100 percent volunteer time is about the limit of what we could do," she said.
Yetman said having someone working on Living Streets Alliance business full-time will improve what the organization is able to do and she sees big things in store for Tucson.
"This is one more indication of that exciting tipping point we are at as community," Yetman said. "I think a lot of great things are going to happen as a result."