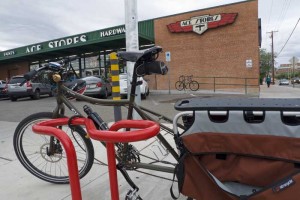 Bikers heading to the ACE hardware on Ninth Street and Euclid Avenue will now have an easier time parking their bikes after a local bike-rack builder donated his most recent rack design.
Bob O'Donnell, owner of Function First, said it is hard to sell a bike rack prototype without people being able to see how it is used.
The rack, which O'Donnell calls the Twist-T because the twisted rack looks like a T from the side.
The twist actually allows O'Donnell to fabricate the rack without a lot of welding, making it less expensive than other similar bike racks.
O'Donnell said the new design offers a lot of benefits: it isn't as tall as the popular inverted-U rack and it separates the bikes.
The inverted U works well, but the bikes come right together so you've got handle bars and pedals overlapping," O'Donnell said. "The nice thing about this rack is it holds the bikes apart so that is no longer an issue."
He also said the height makes it easier to lock the downtube and wheel, which helps keep the bike upright and protects the front wheel.
Tom Thivener, the City of Tucson's bike and pedestrian program manager, said he decided to put the rack in at the ACE hardware because he had received several requests to add a bike rack there.
Thivener said the bike racks ACE had originally were removed because they obstructed pedestrian access.
Stephanie Fries, a manager at the ACE Hardware, said they were excited to get the bike parking because she estimates nearly a quarter of their customers are bike riders.
"It is a lot — a lot," Fries said. "They strategically pack all their stuff on their bikes to get it home or strap it to themselves. I'm interested to see the response from the customers to see if they use it or if they will just continue locking up to the pole outside."