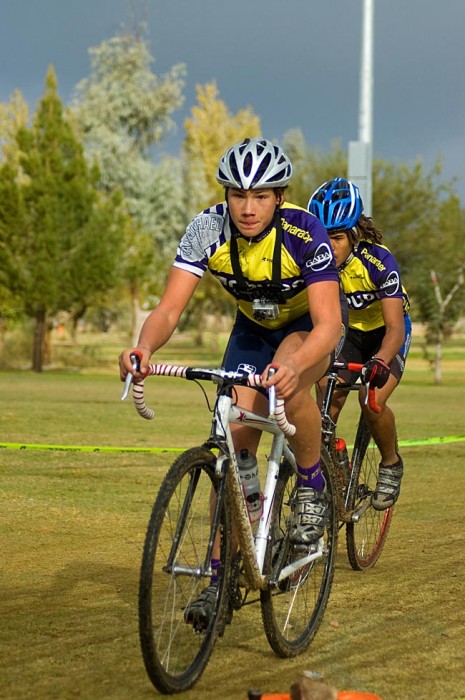 El Grupo rider Donovan Caputo wrote down four major goals for himself last year.
He's been able to mark three of them off the list and is on the cusp of marking the fourth, but needs some financial help to make it happen.
Upgrade to a Category 3 racer.
Check.
Get accepted to Ft. Lewis College, which has a nationally recognized cycling program.
Check.
Get college paid for with scholarships. Check.
Earn a spot on a Tour de l'Abitibi team.
Check, with an asterisk.
Caputo, 18, spent a week last month competing against 24 cyclists for a spot on a national team heading to Tour de l'Abitibi — a premier race for cyclists ages 17 or 18.
Cyclists from around the world will head to Quebec on July 16th to compete in seven stages over six days. Caputo said when he heard about the race he knew he wanted to go.
"Last year when I found out about this race, these kids that weren't much faster than me were dreaming about going to this race," he said. "If they wanted to go to this race, then maybe I could too."
Caputo said the selection camp was brutal with a lot of stiff competition, but at the end of it he was placed on a six-person team based out of Atlanta.
"It was just a slaughterfest for five days straight and at then end of it they said you are on this team," Caputo said.
Meeting your goals isn't always cheap. In order to race, Caputo has to come up with $3,000 to travel with the team and pay for food and lodging while in Quebec.
Caputo said El Grupo is going to help a lot, but the organization doesn't have $3,000 to send him there and neither does his family.
"I'm going to this race," Caputo said.
He said how he does it comes down to how much he can raise. He is currently working on a IndieGoGo donation website to help raise the funds to get there. In the meantime, he said people could donate money to El Grupo to help send him to the race.
"If 300 people donate $10, then we've done it," he said.