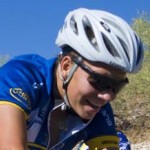 Editor's note: 14 -year-old Max Cronyn spent the weekend competing at the USA Cycling Junior Nationals in Bend, Ore. This is final update from the races. Thanks for keeping up updated Max.

Today's race:
The road race was another hard race and I didn't feel 100 percent this morning.
The line up for the start was the same as yesterday. It was funny because there were 75 of us and the race official tried to get us to move back and we'd take three steps back and then we would all cram back together. We did it like five times before he had move us 30 feet back.
I had pretty poor starting position because I got to the start line a little late. I was probably around 60 of 75 racers
For the first two miles, the race was neutral and no one could attack so that we could get out of town, after that it was a really fast race. It was similar a really hard Cat 3 race. The guys who have a chance at winning any of the races at nationals could hold their own in any Pro 1/2 field and could win most Cat 2 races. It was a really tough field.
I planned to be on the front at the start of the climbs so that I had some room to fall back, but it didn't go quite as planned. The centerline rule wasn't in effect so we could take up the entire road. There were pretty much always 10 people across the road, which made it really hard to move up through the pack. I never really moved up.
We hit the first climb, which was about 1.5 miles long. About halfway up , people started getting dropped pretty consistently. Every 15 seconds or so, somebody would get dropped. Pretty soon it was my turn to get dropped and then I rode behind the field for the rest of the race.  I worked with another rider for a little while, but I ended up dropping him.  I finished toward the back of the field. (Editor's note: Max finished  55th of 66 riders, 12 minutes behind the leaders.)
Looking back:
I would have liked to finish better, but I think it was good to come up to nationals and get beaten. It is kind of tough to go from local races where I can do pretty well and then you come up here and you get your butt handed to you.
Sometimes getting beaten can be motivating. The road race wasn't terribly motivating, but I was really motivated by the crit because I got better riding in a big field. I want to continue to get better at crits because it suits my size better.
I am glad I am done with nationals for this year. I would do it again next year if we were going to be in the US, but I still want to get better even though I won't be able to come next year.
The races solidified that I need to get better climbing and riding at the front of a big pack. It is hard to get to the front and then it is really easy to slide back.
I've been talking to a lot of people who say the junior nationals is not a huge indicator of who is going to do well in cycling at another time. I just want to keep racing and keep getting better.
It was fun to race with people my own age this weekend, although it makes it harder because when you are racing with a bunch of older guys and you get dropped, you can always say, "Ohh in another 25 years I'll be able to keep up with you."  You can't really say that when you are racing people your own age.
I think the races this weekend helped me get a lot more confident. People go to nationals and come back faster on the bike. I think I am faster now and I think I've made a big improvement from last year.
I like to do well and I did better last year, but I liked racing with the 15-16 year-olds because it is a lot more uniform in strength and it is a lot more skilled.
Pre-race meal:
I didn't feel like eating much this morning, but my mom made me choke down this smoothie that she made. I am not sure what all was in it, but I know it had bananas, milk, peanut butter and chocolate powder.  I also had some Cheerios.
We made our own energy drink for the race today. It had lemon juice, honey and salt mixed with water. It tasted like honey and it was pretty effective.