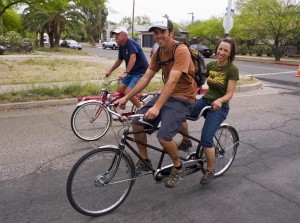 Bikes warranted a mention in newly-elected Mayor Jonathan Rothschild's State of the City address on Tuesday.
The comment about bike paths was in reference to prioritizing spending on infrastructure improvements.
Here are his comments:
We must prioritize investments in infrastructure. I believe that fixing city roads is a first priority. Our State Legislature must return the funds it has swept for road maintenance from cities, counties and towns for many years. And as we fix our roads, let's be smart about it. Let's use environmentally-friendly engineering to limit rainwater runoff. And let's build more bike paths, so we incorporate our livability goals into original designs, rather than spend more later to make those improvements.
He followed up the comment by highlighting some of the budget challenges that face the city.
You can read the transcript of his speech here.