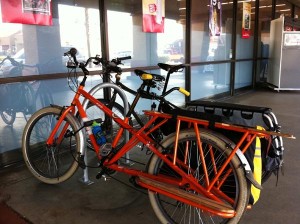 In last night's Tucson-Pima County Bicycle Advisory Committee meeting more details emerged about the city's plan to work on the bicycle parking code update after the council voted to return the bicycle parking code to the Land Use Code Committee.
Adam Smith, from the city's planning and development services department, attended the meeting and requested four BAC members participate in a meeting early next week to revise the proposed bike-parking code. The goal is to make the code something all parties can agree on and return it to the council for approval at their meeting on March 22.
Bicycle and pedestrian program managers Matt Zoll, of Pima County and Tom Thivener from the City of Tucson will also participate in the meeting.
BAC wants to be involved in selection of new transportation director
The committee unanimously passed a motion requesting the city management include a BAC member be involved in the selection process for the city's new transportation director. Jim Glock, the city's current transportation director, will be retiring at the end of the year.
BAC member Ian Johnson said it is clear that a pro-bicycling transportation director can make a huge impact on what gets accomplished, so it is important to have a hand in who is hired.
Police enforcement around region
Both the Tucson Police Department and Pima County Sheriff's department are performing targeted enforcement around the region.
The Sheriff's department is focusing on the Gates Pass area because they have received complaints from people in the area. Deputy Ryan Roher said he spent Tuesday morning in the area and followed three cyclists in an unmarked car. The cyclists were dropped from the Tuesday morning Fairwheel ride. He said within a reasonable amount of time they moved from three abreast to single file and waved him though.
Tucson Police Department Sergeant Jerry Skeenes said motorcycle officers would deploy on March 18 and begin searching for locations around Tucson to deploy regularly looking for bicycle riders who violate traffic laws.
Skeenes has said in past meetings that the officers will not focus as much in the downtown and university areas.