Tucson cyclists who are unhappy with the proposed bicycle parking code  updates —which will make it easier for developers to provide less parking at distances further away from entrances — have one last opportunity to get it changed.
According to Adam Smith from the city's planning and development services department, the code changes will have a public hearing before the Mayor and City Council on March 8 at 5:30 p.m.
The council has the final say on the code changes and can amend them if they choose.
On a web page devoted to the bike parking update, The Living Streets Alliance suggests attending the meeting or writing the Mayor and council members. (See the contact details below).
During the last Tucson-Pima County Bicycle Advisory Committee meeting, members voted to oppose the changes in the code and suggest the Mayor and council adopt the national bike parking standard.
Here are a few excerpts from the BAC's letter:
At its January 19, 2011 meeting, the BAC discussed the proposed amendments to the bicycle parking standards and voted to endorse the Association of Bike and Pedestrian Professionals (ABPP) standards for bicycle parking. The City of Tucson has made a significant investment in bicycle facilities. Just as a transit system needs sufficient and appropriately located stops to maximize ridership, the City's bicycle network requires a sufficient number of well-located bike parking spaces to maximize the City's investment in bicycle facilities.

1. Short-term bicycle parking must be provided within fifty feet of the main building entrance for these reasons:

This distance is close enough to the main entrance to provide visibility, and the fifty foot radius provides many options for locating bicycle racks
Security for bicyclists and bikes is increased
Bicyclists offer purchasing power, and better bike parking brings more customers to area businesses
Visible bike parking accommodates bicyclists and promotes bicycle use
Flexibility is provided, for instance allowing the bike parking in a parking area

2. The BAC supports the ABPP guidelines because they address other important goals of bicycle
parking standards:

Provide reasonable ratios for short-term bike parking at financial services, retail, and wholesaling/industrial uses (1:5,000 sf for retail; 2% maximum daily attendance for entertainment venues; 2 spaces for wholesaling or industrial uses)
No caps for long-term parking, but rather flexibility for implementing the standards for long-term parking. We support these because experience has shown that long-term parking is often poorly located or maintained. We do suggest that long-term parking be in a visible location.
In summary, bicycle parking is an amenity that adds value to retail, employment, and community destinations. We support this effort to update the current code, and hope that you consider
including these bicycle-supportive strategies in the parking code update.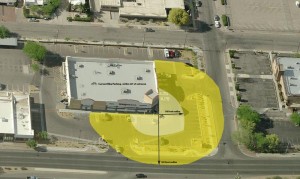 Download the entire letter here.
Use the emails below to contact the Mayor and council members.
City of Tucson Mayor and Council, c/o City Hall
255 West Alameda Street
Tucson, Arizona 85701
Mayor Bob Walkup – mayor1@tucsonaz.gov
Regina Romero, Ward I – ward1@tucsonaz.gov
Paul Cunningham, Ward II – ward2@tucsonaz.gov
Karen Uhlich, Ward III – ward3@tucsonaz.gov
Shirley Scott, Ward IV – ward4@tucsonaz.gov
Richard Fimbres, Ward V – ward5@tucsonaz.gov
Steve Kozachik, Ward VI – ward6@tucsonaz.gov
There are some good information on this site about bike parking.