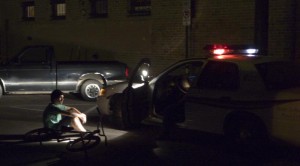 Several cyclists on the Tuesday Night Bike Ride were cited for various infractions including running red lights and stop signs as well as riding without lights.
Erik Ryberg of TucsonBikeLawyer.com suggested in a recent post that there would be an increased police presence because of a recent incident on the ride in which a dog was run over.
The ride which went south on Fourth Avenue, split into two when a large group of riders waited at the stop light at Sixth Street. The ride regrouped just before the highway on Congress, but quickly split up when riders didn't make the light under the highway, despite people at the start of the ride suggesting the leaders wait often for the back of the ride to catch up.
The ride turned north on Grande Avenue and then east on St. Mary's Road. The police showed up after the riders passed under the interstate heading east.
Police used their loud speakers to instruct the group to stay in one lane and ride two abreast.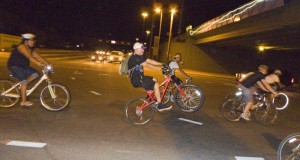 Ryberg said it could be confusing to tell people to stay in one lane while also telling to them to ride two abreast.
TNBR rider, Ellen Fischler said at one point the police said to ride in the bike lane, but there wasn't a bike lane to ride in.
Farther up, Fischler said an officer sped around the group and started to move right into a BMX rider to try to get him move over.
"It was like they were trying to herd sheep," Fischler said.
A BMX rider was pulled over by police for riding without lights. He argued that a lot of people were riding without lights, yet he was the only one who had been pulled over.
At Fourth Avenue and Ninth Street, another rider was stopped for running the stop sign at the intersection. The biker got on the multi-use path, but was followed by the officer who followed him by driving on the dirt next to the path.
Ryberg said the police actions were much more subdued than when the police cracked down on the ride two years ago.
Were you on the ride? What did you see and hear? Leave a comment below.
Editor's note: Fischler, who is quoted in the post, is my sister-in-law.