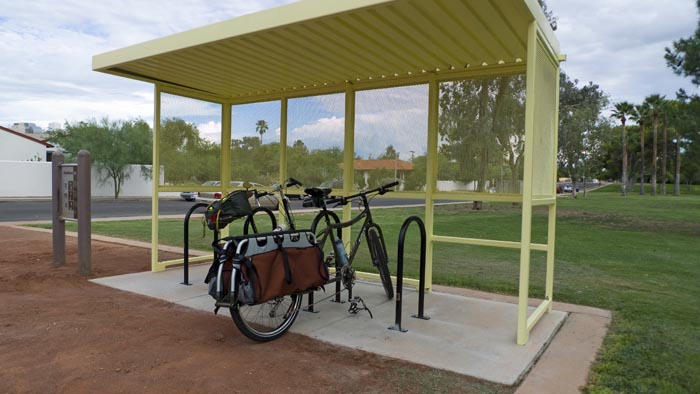 Cyclists riding to the Himmel and Green Valley libraries will find some respite from the sun after the City of Tucson and Pima County installed covered parking made from recycled bus shelters.
Tom Thivener, Tucson's bicycle and pedestrian program manager, said he had been thinking about providing covered parking since he saw something similar in Portland where they also included bike maps and resources attached to the structure.
"I thought it was cool to provide shade for bike parking at key areas as well as provide information," Thivener said.
Thivener said the bike community has been saying they want better bike parking and when the city's former bike and pedestrian program manager called to tell him they had a few old shelters, Thivener decided to put one at the Himmel Library.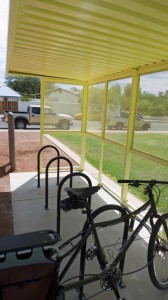 "The Himmel location is an easy target," Thivener said.  "There is definitely not enough parking there. If you have been to a special event at the park, there are just not enough places to park."
Ben Matiella, a Himmel Library employee said the rack at the library is often full and having another rack that was also shaded was great.
"A lot of people around here commute by bike to the library," Matiella said.
The only drawback for Matiella is the location of the new rack, which is about 120 feet away from the entrance to the library.
Matiella said he would probably only use the shaded parking if the rack just outside the entrance was full.
According to Thivener, the final location was selected while he was on vacation and was placed farther away than he would have liked because of utility lines in the area.
"That location ended up being OK, I think because when there are special events at Himmel park, that spot is completely visible to park users," Thivener said.
The racks, which were installed on Monday came from a shipment the city received last month. The city will add information to the structure including a bike map and information about bike safety courses.
Thivener worked with Beth Gorman, Pima County's senior program manager for the Department of Environmental Quality, to identify a location in the county that could use the shaded parking.
According to Gorman, they realized the Green Valley library was doing renovations that would make it easy to add more bike parking.
"It fit a lot of different needs that we had," Gorman said. "We've got a strong community already down there that uses bikes, we needed additional bike parking and then the construction was going on already. All of these things fit together, it was just perfect."
According to Gorman, the covered bike parking cost between $2,500 and $3,000.
Thivener said he hadn't received all of the invoices, but said the final bill would be below $3,000, which included refurbishing the shelters.
Where else would you like to shaded parking provided?