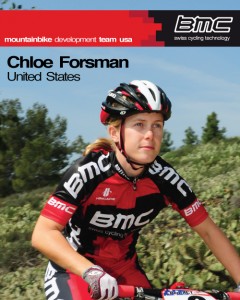 Editor's note: This post was written by Tucson Velo's newest contributor, Mary Reynolds. Reynolds is a mountain and road cyclist who also writes about endurance sports for Examiner.com. You can follow her personal outdoor adventures on her blog.

Professional mountain biker Chloe Forsman came to Tucson for college, and loved it so much she decided to stay.
Except during mountain bike race season, when the 24-year-old travels across the country and the world competing on the BMC Development Team, sponsored by the Swiss bicycle manufacturer.
This past weekend, her second place finish at the US Pro XCT #3 in Santa Ynez, California, made her second overall the US Pro Cup Series. Forsman is also sponsored by Clif Bar, and faced off against her old Luna Pro teammates in the California series.
She finished on the podium in the other US Pro Cup races, and won the short track race in Fontana on March 27. At that race, she beat people like World Cup champion Catharine Pendrel and Olympian Georgia Gould.
"I was happy to just finish that race," said Forsman about the technical course at Santa Ynez. "It started raining really hard in our second lap, and the course turned into greasy slick mud. You couldn't ride a straight line, or the mud was collecting on my tires and bike. So I'd  ride four minutes, then stop to pull hunks of mud off my bike."
Other racers struggled with the mud, too. Everyone cleaned off their bikes before the last hill: "There was this watering trough for cows, and we all put our bikes in it to clean them off, just so we could get down the hill and finish."
She said it was frustrating, but at some points, "We were all just laughing at the conditions out there."
"Oh, and I crashed during the first lap, my thumb really swelled up, so I couldn't really hold my handlebars with my left hand," she said.
Speaking from her hometown in Boulder, Colorado, Forsman says she's going to the doctor to get it checked out.
Her thumb and the rest of her body can recover over next two weeks when she's in rest mode. Forsman has raced hard over the last three weekends, including two World Cup events in Europe. She raced in England's Dalby Forest, and in Offenburg, Germany.
"I really enjoyed all the spectators in Europe," she said. "In Offenburg, they sell tickets to the mountain bike race for 15 Euros (about $20) and they sold out! There were thousands of people there. It was difficult for me to watch the men's race because of all the crowds."
At many European venues, promoters set up beer gardens at the spectator-friendly, technical sections of the course and Offenburg was no exception.
"There was music blasting from the beer gardens and tons of people cheering," she said. It was "that stuff they play at European discos."
Forsman also enjoyed time with her BMC teammates in Europe, who also make up most of the U.S. National Development team. She was the only person on the team not in the Under-23 category, so she served as a role model to the others.
"Erica Zaveta is the other woman on the BMC team, and I got to know her when she was at the U of A for a year, we raced collegiate together. It's been fun to see her develop into a mountain bike racer."
Forsman's next race is the Pro XCT Subaru Cup in Wisconsin, followed by two more World Cup events at Mont Ste.-Anne, Quebec, Canada, and Windham, New York.
"I've raced both courses, they're both technical, and often muddy," she said.
The bike-sucking  mud of Santa Ynez was perhaps perfect preparation for the eastern muddy and rooty courses.
"I like the challenge of different technical terrain. And the spectators are incredible at Mont St. Anne, makes is a very exciting race," said Forsman.
After that, she'll compete at Nationals in Sun Valley, Idaho, then final round of the Pro XCT in Missoula, Montana, on July 24.
"Then I'll be back in Tucson in August, I love the monsoon season," she said. "It's a love/hate thing, I hate the humidity, but love the rain when it finally comes."
She'll hit her favorite training rides over Gates Pass to McCain Loop, and hit the trails of Tucson Mountain Park.
"I love the easy access of the Tucson mountains, I can ride there from my house instead of driving."
One of Forsman's big events this fall is her marriage to Momentum Endurance coach, and TucsonVelo.com contributor, Travis (TJ) Woodruff.  Her fiancé is also a pro mountain bike racer. And even on wedding weekend, racing is not far from her mind.
"The day after we get married in Boulder, we're racing in the U.S. Grand Prix Cyclo-cross race in Ft. Collins."
With early season success in the mountain bike short track events, Forsman is poised to excel at cyclo-cross races held during the winter.
"They're short races, and I'm young enough where I can do well at high intensity, shorter races," Forsman said. "I just have to figure out those barriers," she says of the 18-inch hurdles that are included on every cyclo-cross course.
Even though there aren't many cyclo-cross races in Arizona, "I'll be back for the winter, Tucson's home," Forsman said.
But she can't stop thinking about racing, even during the off-season: "Cyclo-cross is booming in so many states now, I think it has a lot of potential in Arizona. It's very accessible; the costs of putting on a race are less investment for a promoter."
And unlike most cyclo-cross venues with snow, rain, and mud, in Colorado, the Pacific Northwest, and New England, "We have beautiful weather."
You can follow Chloe Foresman the rest of this race season on Twitter: @chloeforsman