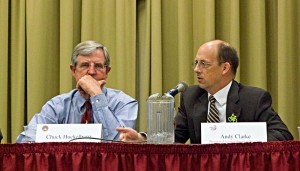 After a long day of touring sections of the Urban Loop and attending regional planning meetings, the League of American Bicyclists president Andy Clarke told more than 100 Tucson cyclists that in order to achieve platinum bicycle friendly status there need to be more people on the road.
Clarke said during the presentation they are specifically looking for cyclists who are replacing car trips with a bicycle, rather than purely recreational bicycling.
"We need to make sure Tucson isn't just a good place to ride — but is the best place to ride, and frankly the best option for people to make more of their everyday trips," Clarke said. "That is the real challenge and what will truly propel you to platinum. You've got great infrastructure, you've got great education programs, we need to just see more people out there riding."
Clarke's comments largely mirrored what he told Tucson Velo in an interview on Monday, but added it isn't all about commuting to work, rather the shorter trips people take. He said 40 percent of all the trips in the United States are less than two miles and 66 percent of those are made by car.
"We need to change that," he said. "We need to focus on short, manageable, easy trips and encourage people to make them by bike. We want to not obsess about the journey to work number particularly in this region perhaps because so many of you are beyond work shall we say."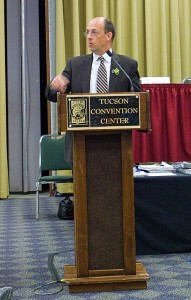 He said only 15 percent of all the trips in the U.S. are work trips and said Tucson should also be focusing on the other 85 percent.
"Those are actually much easier to get people to make by bike because they don't have to wear the suit and the tie and worry about their hair if that is an issue for them," he said while rubbing his balding head.
Clarke had suggestions for how to get people on their bikes to replace the car for the short trips they make.
He suggested doing monthly or weekly ciclovias and creating an individualized marketing program to help people feel comfortable riding their bikes.
"These are the kind of transformative events that we need to see not annually – sorry for the folks that spent a lot of time working on it once a year — we need to see this happening every month, every week," he said to a round of applause. "It will open people's eyes to what is possible in their community in a way nothing else does. If you couple this with a kind of low-cost information program to give people that last one or two pieces of information they need to get their bikes out and start riding, those are the two things that are going to get a host of people back out on their bikes here in the Tucson region and that will be what propels you to platinum."
UA receives bicycle friendly award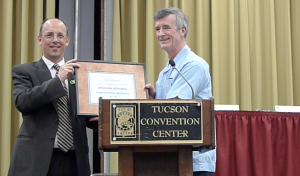 Just before Clarke spoke, he presented University of Arizona president Robert Shelton with an award recognizing the UA as a silver-rated bicycle friendly university.
Shelton, who spent 14 years at UC-Davis, one of the most bike friendly universities, said he was pleased with the award.
"We are thrilled to get on the medal stand, if you will, with the silver, but we have a long way to go," Shelton said. "There is a lot more we can do."
He said this is only the start and the UA will make sure bike usage is part of their overall vision despite the budgetary constraints.
"There are a lot of things you can do that you don't have to spend a lot of additional money," Shelton said. "You have ways of encouraging bike usage. You could argue one way to encourage bicycle usage is that parking gets more expensive. There are carrots and there are sticks."
Clarke tours sections of Urban Loop
Yesterday morning, Clarke toured portions of the Urban Loop. The ride was hosted by Pima County's bicycle and pedestrian program manager, Matt Zoll.
The ride started at Craycroft Road and the Rillito River Path and headed west. The group toured a portion of Mountain Avenue's buffered bike lanes and then returned to the river path.
Eventually the riders made their way to the Santa Cruz river path and headed south toward downtown.
Check the photo below for images from the ride.