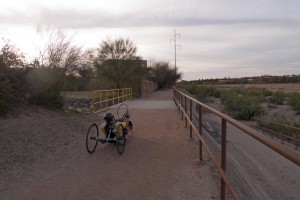 The Pima County Parks and Recreation department is looking for feedback from cyclists about a proposed addition to the south bank of the Rillito River path between Campbell and Mountain Avenue.
The county wants to make the stretch a dual-use path, by adding a paved section for cyclists in addition to the existing dirt path for walkers and equestrians.
According to Carlo DiPilato, a project manager for the Parks and Recreation department, the connection is critical.
The piece of the path will allow cyclists to move between the north and south sides of the Rillito using the Mountain Avenue bike/pedestrian bridge rather than the Campbell Avenue bridge, which doesn't have bike lanes and has very narrow sidewalks.
The southern section of the bike path is one of the only areas in Pima County that bicycles are prohibited on.
DiPilato said the plans are being finalized, but the department has received a lot of negative feedback from residents in the area.
"There has been a lot of controversy concerning this segment, they just want to leave it the way it is," DiPilato said.
Residents in the area have expressed concern that the project will remove trees along the path that provide shade to the residents.
DiPilato said they are working to keep as many trees as possible and said the area will actually have more vegetation when the project is completed.
He said often residents in the area are the only ones to respond to project developments.
We know that individuals that live within a given proximity of a proposed development are the first to express their needs and concerns," DiPilato said. "Those that come in and traverse the facility as a resource are less likely to respond."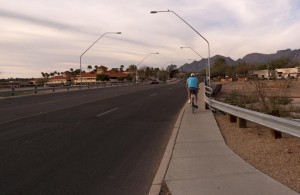 DiPilato said cyclists who have an opinion about the path extension should write a letter to the department's director.

Letters should be addressed to

Rafael Payan Director of Pima County Natural Resources Parks and Recreation 3500 W. River Road
Tucson Az 85741

Dipilato said a hard copy is preferable, but support can be voiced by calling Payan at 520-877-6209 or emailing rafael.payan@parks.pima.gov

Editor's note: We live in one of the neighborhoods along the section of path between Campbell and Mountain. I am voicing my support of the project within my neighborhood.