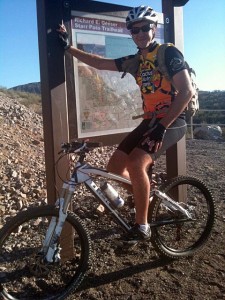 Editor's note: This post was written by Tucson Velo contributor, Mary Reynolds. Reynolds is a mountain and road cyclist who also writes about endurance sports for Examiner.com. You can follow her personal outdoor adventures on her blog.
"I thought it'd be cool to a have an online place to post your best time and brag, a place to show that you beat your buddy," Rocks N Clocks creator Jonathan Buchanan said about the idea he had two years ago. "The idea grew as I grew and progressed as a mountain biker. I kept it to myself, then put pen to paper, started taking pictures of the official start/finish spots."
At the Rocks N Clocks website, mountain bikers challenge each other to ride designated courses faster.  He had an idea in his head about what he wanted the course to be, and Buchanan set up the website in May.
He made it easy to use.
"I didn't want to use a GPS way-point for the start, because not everyone rides with a GPS unit," he said.
Thus, each route start/finish is an actual post, sign, or other stationary object at the trailhead.
"I wanted to use what's already there."
An engineer by day, Buchanan is also an expert at navigation and created GPX data files for each course. He used a Garmin 60csx which records at a fine resolution; but it was still a labor-intensive process to create the courses.
"It's hard to get the GPX way points to overlay on the single track," Buchanan said. "I had to ride and create tracks, then slice and dice to overlay the track exactly on top of the trail. I used Topofusion to cut out one section of the trail and add it to another one. It's a powerful tool for editing tracks."
He says a slower paced bike ride with the Garmin leads to more accurate tracks, but "sometimes I get carried away, I'm having too much fun, and I go fast."
Mountain bikers can download the tracks as GPX or KMZ files, but most routes are familiar to Tucson riders. Even the five-mile  "bunny loop" at Fantasy Island is included. This popular trail is considered to be fairly easy and good for beginners, but expert cyclists will have a tough time beating Buchanan's fastest speed of 19 minutes, 26 seconds.
"I'm just waiting for a pro like Krista Park or Zephanie Blasi to demoralize me with a sub-16 minute time," he said.
After the course is completed, riders upload their name, date, and time for the ride into the chart. There is a "Comments" section which is good for excuses like "I am a fat old man on a rigid single speed," or "Stopped to take some pics."
Buchanan started riding when he was at the University of Arizona where he majored in physics and math.
"My buddy had an extra bike, and we'd go out on night rides in the Sweetwater area, on the roads and trails," Buchanan said.
He lives near Fantasy Island and frequently hits the trails there.
Buchanan is hard-pressed to pick a favorite trail in the Tucson area.
A self-described "techy guy," Buchanan likes technical, rocky, steep trails.
"I like Hooligan in the Tucson Mountains."
Rocks N Clocks warns riders about the Hooligan trail: "This trail sports some awesome technical climbs and a very tough descent with some tight switchbacks and tough moves that will have you on your toes the whole time."
He raved about a little-known trail called Scorpion Gulch.
"It's the most technical trail I've been on in my life. Period. It blows my mind that it exists," he said.
Buchanan does some racing in the Arizona Endurance Series. He's done Antelope Peak, the Sedona Big Friggin' Loop and Kentucky Camp.
"My goal in those is just to finish, I like the Kentucky Camp course a lot," Buchanan said.
He's also bike-packed on the Arizona Trail, but didn't enjoy it too much.
"I have some work to do on that trail," he said.
In fact, he plans to go epic and compete in the Arizona Trail 300 race in the near future.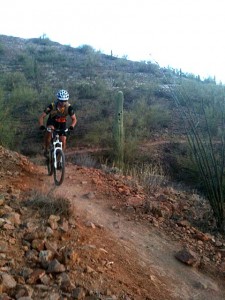 Buchanan plans to expand Rocks N Clocks to trails outside the Tucson area.
"I might split the Kentucky Camp race loop (east side of the Santa Rita Mountains) into two loops, one is more for beginners, one would be more technical."
He'll also add tracks for trails in the Tortolitas, northwest of Tucson.
Another similar webpage is focused on just one ride: The Tucson Mountain Park Rock and Road Challenge. This 58-mile route takes in multiple trails and roads in the Tucson Mountains. Cyclists can choose their own start/finish point, but the ride must be proven with a GPX download.  Rocks N Clocks requires no GPX proof, just old-fashioned honesty.
To promote Rocks N Clocks, Buchanan has distributed flyers at bike shops, and organizes small group rides that he publicizes through the TucsonMTB forum.  As the site develops, he may add divisions and classes to the virtual races, like real mountain bike races use.  Buchanan also started a blog with more pictures of rides along the Rocks N Clocks courses.
With more people riding in the cooler fall weather, Buchanan expects course records to fall as riders go for the fastest time.  But he still wants Rocks N Clocks to be accessible for all levels of mountain bikers.
"I want to create 20 minute courses for beginning riders, and routes that take four or five hours to finish," he said.
Vimeo video of Jonathan Buchanan on Starr Pass course: http://vimeo.com/25146654