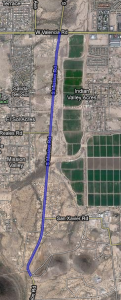 Cyclists riding the shootout Saturday morning may finish their ride with traffic citations in their jersey pockets.
Tohono O'Odham police warned riders last week that they would begin citing cyclists who were riding more than two abreast this weekend.
The Tohono O'Odham public information officer said he could not speak to the media, but referred me to the O'Odham's overall public information officer, Matt Smith.
Smith said on both Wednesday and Thursday that he had left a message with the police department, but hadn't heard back and couldn't comment.
Erik Ryberg, a local attorney who represents cyclists, said if the Tohono O'Odham police cite riders for riding more than two abreast, there isn't much cyclists can do.
Ryberg said the argument could be made that because the road is too narrow for a car to safely pass two riders without going into the the second lane, then the group has the right to take the lane. Ryberg said he thought that argument would likely fail in court.
Mission Road is owned by Pima County, but Tohono O'Odham police can issue citations.
According to the Pima County Attorney's office, a non-tribal member who receives a ticket from the Tohono O'Odham police on tribal land will go through the Pima County Justice Court. Because the cyclists would go through Pima County's court system the bike diversion would be an option rather than paying the fine.
Ralph Phillips, the owner of Fairwheel Bikes — the bike shop associated with the ride — said it actually makes more sense and is easier for cars to pass the group when they are bunched up.
Because the group rides more than two abreast, a motorist would have to be in the opposite lane for a shorter period of time.
Ryberg said the argument makes sense, but it always comes down to the judge.
"I don't know that that is going to matter to a judge," Ryberg said. "A judge is going to be be like, 'what were you thinking? Why don't you ride two abreast and leave spaces so a car can pass?'"
Phillips said he hoped it wouldn't come down to police citing the group.
"Before people start handing out tickets, we ought to sit down and talk," Phillips said. "They can do that if they want, but it is not going to build any goodwill or good relationships between either of us."
Ryberg said cyclists need to work with the authorities to come to some sort of agreement.
"I don't think the shootout has a lot of options here," Ryberg said. "I think they are going to have to compromise. Because what they are doing is technically illegal, they need to find way to get the local authorities to look the other way. The only way that is going to happen is if they are a little more courteous and they are a little bit more careful to permit cars to pass them."
Phillips suggested they hire a motorcycle officer to provide traffic control each weekend, but that hasn't happened.
Pima County's bicycle and pedestrian coordinator, Matt Zoll, said there is some work being done to add paved safety shoulders to portions of Mission Road, which might help alleviate some of the motorists concerns.
Phillips said they chose the route and the time to try to make the ride as small as a nuisance for the residents in the area. He said the group also tries to be respectful.
"We try to have minimal confrontation with people out there," Phillips said.  "We try to be polite to motorists, but sometimes they flip us off too. It goes both ways."
Ryberg said he sees why the ride is so well attended.
I understand why these guys want to ride in this group and I think the shootout is something Tucson cyclists can be proud of," Ryberg said. "It is a pretty impressive ride."
He said he wasn't sure what the ride could do, but suggested pursuit groups of 10-20 riders might be an option.
"As competition for the road increases with drivers and as the shootout grows, it is going to need to make some changes."