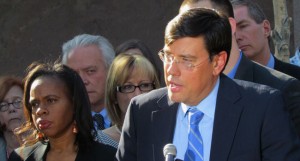 State Representative Steve Farley spoke at the Tucson-Pima County Bicycle Advisory Committee meeting about the future of Tucson's transportation on Wednesday night.
Farley said he got into politics because of Tucson's transportation issues. He touched on several different subjects including: cycling, distracted driving, the street car, and buses during his presentation.
As for the street car, Farley is disappointed the city chose to use T-rail instead of block rail, which is generally considered to be safer for cyclists, but he said the street car is a critical to change Tucson's transportation mix.
"The streetcar is a gateway drug to a lot of alt modes," he said.
Many people won't even consider riding a bus, but will ride the streetcar because it's fun he said. Additionally, bikes become more popular because you can ride from the streetcar stops to increase the travel distance.
Farley was asked about whether the state legislature was working on a texting ban. He said in January 2007 he was the first legislator in the country to introduce a texting ban — which failed to get support in the state legislature. Since then, 44 states have adopted a ban on texting, but Arizona still hasn't adopted one. According to Farley, the City of Phoenix adopted their own texting ban.
He said he is working with the Department of Public Safety to get a generic distracted driving law passed that would allow officers to pull motorists over and cite them if they are driving in an erratic way, but wasn't encouraged it would be passed. He suggested advocates work with city and county officials to get a local ban in place.
Lastly, he said he was encouraged by the number of people who are starting to make their voices in transportation heard. He said if people continue working together, Tucson can become a model for how to convert an auto-centric city into a model of alternate transportation.
I've included the audio recording of his talk. The first few minutes are a bit dry even for a public meeting, but it picks up.
Bicycling advocates to be involved in transportation director replacement
BAC Chair Ian Johnson will be involved in the search committee to replace outgoing City of Tucson Transportation Director Jim Glock.
Johnson said Living Streets Alliance will also have a seat on the search committee.
Counting bikes
In addition to the Pima Association of Governments bicycle count, which has it's first volunteer info session tonight, the Sonoran Desert Mountain Bicyclists will be out at various trailheads around the region starting this weekend to count mountain bikers.
Learning from Minneapolis
Matt Zoll, the county's bicycle and pedestrian program manager presented information about his summer trip to Minneapolis, which was recently named the top biking city by Bicycling Magazine.
He said the city of Minneapolis committed to spend $25 million over 5 years to help vault them into one of the top biking cities in the country. He also touched on their bike share program, which cost $5 million to get started, but is completely self sustaining and has only encountered one theft and $5,000 in vandalism.
He said surveys suggest 23 percent of people using the bike share system don't own bikes and 20 percent of the trips replaced car trips.
Check out the rest of his presentation here.