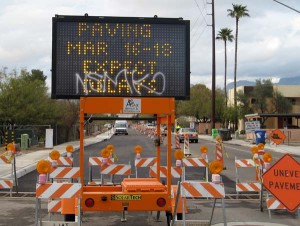 "The end is near," says Fred Felix a Department of Transportation engineer in charge of the Mountain Avenue paving project,
Signs appeared yesterday afternoon on Mountain Avenue announcing the dates for the final layer of asphalt.
According to Felix, the paving will actually occur on March 17 and 18 with one lane of traffic open in a northbound direction each day.
"The only problem with that is that there are going to be a lot of big trucks during that time that will be delivering asphalt and it is might be intimidating," Felix said about riding through the area on they days they are paving.
Once the last layer of asphalt is poured, they will paint temporary bike lanes and open it to cyclists in both directions.
But, according to Felix, more work will have to be done before all the barricades are removed.
"We've got some pavement stamping to do," Felix said. "It will look very similar to the pavement south of Ft. Lowell."
Felix did say the stamping will be intermittent along the bike lane.
Additional work including raising manhole and water covers to the street level will still have to be completed. But, according to Felix, weather permitting, the project should be completely done, with all the barricades removed, by the middle of April.