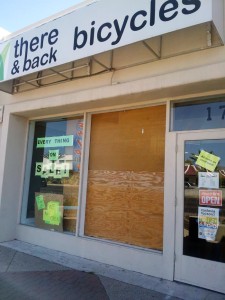 Tucson bicycle shop There & Back Bikes was was burglarized this morning.
The front window was the shop was smashed and the thief stole the bicycle in the window.
Shop employee Lauren Frisk said only the red 2011 XL Giant Boulder that was in the window was taken and said they filed a police report with Tucson Police Department.
Frisk said an employee from 1702 Pizza noticed the broken window while leaving work and immediately called a There & Back employee.
She said the break-in occurred around midnight this morning.
There & Back Bikes is currently going out of business and is selling off it's product as discounted prices to help pay the medical expenses of the shop's owner who died after a prolonged battle with heart failure.
If you spot the bike, call the Tucson Police Department.
Here's what the stolen bike looks like:
Thanks to Tom V. for the tip.