Editor's note: This story was written and submitted by Mary Reynolds and originally appeared on her Examiner.com page.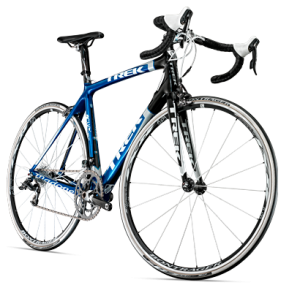 Dining al fresco at El Charro in Sahuarita, it's easy to see why Trek staff came here to test new product designs. "It's pretty wonderful to ride a bike and feel your hands at the same time," said Andrew Conner, design engineer for Bontrager Components, a Trek brand. "On Saturday morning, I got frostbite shoveling my car out of the snow in Waterloo." Bicycle testing is easier in Arizona than Wisconsin's Trek headquarters, especially in December.
Although it was Conner's first time to southern Arizona, for advanced design engineer Doug Cusack it was a return. "I lived in Tucson for a few years during the 1980s," said Cusack. "I'd ski in Colorado in the winter, and race bikes the rest of the year in Tucson. I used to ride with Ralph of Fair Wheel Bikes."
Trek sent seven engineers and product managers to test new product designs on the roads of Green Valley and Sahuarita. "We're always interested in different road surfaces," explained Reggie Lund, research and design engineer for composite frames. For product testing, he said, "We look for a variety of road surfaces and good weather. And it was great to see so many people using the bike lanes." Conner added that while riding in Green Valley, "Everyone was waving at us. It was really nice."
"We want to confirm results of tests that we run in our lab, and our computer analysis" said Lund. "What do design changes mean to a real rider, in real road conditions? We're using seven different riders to check how a bike feels, how it corners." Frames and components tested in southern Arizona this week will be available to consumers in 2012 or 2013. Trek's professional athletes will further test some products, too.
Chatting over chimichangas and chile rellenos, the design team talked about feedback from professional cyclists and triathletes. "We meet with the K-Swiss triathletes when they come to Wisconsin," said Mike Lavery, design engineer for road and speed bikes (time trial and triathlon). "We ask what they like, what they want to see in the future. They have good ideas about places to put hydration and nutrition."
Lavery knows first-hand that easy access to food and water is critical for triathlons, especially the Ironman distance. In fact, he recently competed in the Cozumel Ironman and finished in 10 hours and 7 minutes. He said, "It didn't go so well for me, it was too hot;" a surprising comment considering his fast time. Lavery continued, "We begin at the design phase to work with speed bike component and accessory companies, to make sure our new designs will work with their latest and greatest."
Lance Armstrong retires (again) from cycling this year, but will continue racing for the Radio Shack Team using Trek bikes as he re-launches his triathlon career in 2011. "Anyone can have Lance's bike," said Heather Henderson, women's specific product manager at Trek. She explained the egalitarian Project One program: "Any customer can design their own bike: frame type, components, even a paint job. Anyone can ride the same bike that Lance rides." Project One bikes are built in Waterloo. Trek has other production and assembly plants in Taiwan, China, and Germany.
The story continues on Examiner.com