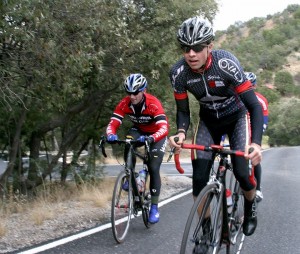 Every winter Tucson's population surges, but it isn't just snowbirds in giant cars hitting the streets.
Hundreds of cyclists and triathletes from around the world will make Tucson their home for some portion of the winter. Tucson has become such a popular winter training town that last year Mayor Bob Walkup proclaimed Tucson as the "Winter Training Capital."
Now the training capital has a point person.
"I am like a multi-sport concierge,"  said TriSports' Gail Leveque who's official title is Tucson Training Destination Specialist.
Leveque said her full-time position which was created this year, is designed to offer assistance to coaches and groups who want to come to Tucson to train during the winter.
"I am not a travel agent per se, but I can point them in the right direction and help them take advantage of all the things we have," she said.
Leveque said the goal is to get people to visit the TriSports store too.
"Part of my job is getting people to come into the store because it is a business, but as large a part is also promoting Tucson as a training destination," Leveque said."It's about promoting Tucson as a training destination."
Major Jim Weinstein, who is a co-leader of the Service Academy Training Camp — the first camp Leveque worked with — said they utilized a lot of TriSports' services.
"They were able to provide us with several very, very cool opportunities," Weinstein said.
He said they contacted Leveque after the person they had lined up to drive a follow vehicle and provide SAG for their rides was injured and couldn't do it.
TriSports was able to provide a follow vehicle, driver and mechanic. In addition, Weinstein said, TriSports hosted mechanics classes, organized a guest speaker and hosted a dinner for the campers and even took photos of the riders during their rides.
Lastly, they offered the campers a discount for purchases in the store.
"It was nice to take the campers over there to pick up anything they needed in terms of equipment," Weinstein said. "Everybody forgets something."
Leveque said some of the services are free and others cost money, but Weinstein said they were competitively priced.
Leveque said a lot of people and coaches have heard about how great Tucson is for training in the winter, but said the logistics can be overwhelming. Her goal is to make it a little easier for them to come to Tucson to train.
Weinstein said TriSports was very helpful.
"For someone who is new to Tucson or just thinking about going to Tucson to ride or do a training camp, they would be an excellent resource."
No federal government endorsement intended.