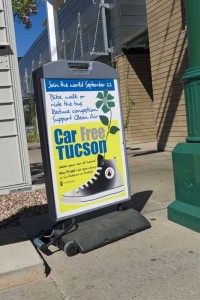 Local officials hope traffic might be a bit lighter on Wednesday.
Government officials and even a local country music station are promoting World Carfree Day.
Jennifer Donofrio, a bike and pedestrian planner for the City of Tucson, said this is the first time city has celebrated the day.
According to the Carfree Day's website, it is a way to remind people they don't have to use a car.
"Every September 22, people from around the world get together in the streets, intersections, and neighbourhood blocks to remind the world that we don't have to accept our car-dominated society.

"But we do not want just one day of celebration and then a return to 'normal' life. When people get out of their cars, they should stay out of their cars. It is up to us, it is up to our cities, and our governments to help create permanent change to benefit pedestrians, cyclists, and other people who do not drive cars."
Donofrio said World Carfree Day is a great way to encourage new riders to commute to work on their bike.
"It is also a great way to get new people who are like, 'Ohh I am not really sure about riding my bike to work.,'" Donofrio said.  "This is an opportunity for them to try riding to work with a group of people who are comfortable with a route."
Donofrio and Pima Association of Governments Sun Rideshare manager, Ruth Reiman, will be hosting rides into downtown Tucson. (I'll also lead a ride to the University if anyone would like to join. Check the details below)
In addition to the rides, local country music station KiiM FM will have one of their DJ's riding the bus during their morning show.
People who go car free on Wednesday will be eligible to win hundreds of dollars in prizes from Summit Hut and REI. Check out  CarFreeTucson.org for more details on how to win.
If you want to host your own ride, you can list it on the Sun Rideshare's Facebook page.
Ride details:
Jennifer Donofrio's ride: Wednesday, Sept. 22 at 8 a.m. Her ride will meet at 9th Street and Campbell Avenue. She will also provide muffins to those who show up.
Ruth Reiman's ride: Wednesday, Sept. 22 at 7:30 a.m. Reiman's ride will meet at 3rd Street and Richey Boulevard. She will be serving banana bread.
Tucson Velo's ride: Wednesday, Sept. 22 at 7 a.m. We'll meet at Limberlost and Mountain Avenue. Instead of baked goods, I'll provide you with sparkling conversation about bicycle news in Tucson AND — because even my wife called me out on it — some sort of baked good.