If you've been thinking you are seeing more bike riders on the road, data released by the United States Census Bureau suggests you're right.
The American Community Survey — a questionnaire given to randomly selected residents throughout the country every year since 2005 — shows the percentage of bike commuters in Tucson jumped from 1.9 percent in 2009 to 3 percent in 2010, a 58 percent increase.
For the last five years, Tucson had hovered at, or below two percent.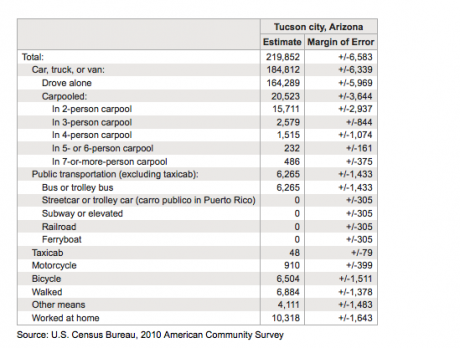 University of Arizona graduate student, Devon Orme, has been riding along Mountain for the last three years. She said she has seen the increase in riders along her daily commute.
"There are definitely more people on the route since I've been here," she said.
The county as a whole saw a slight increase as well. According to the data, the county increased its ridership from 1.3 percent in 2009 to 1.7 percent in 2010.
Ann Chanecka, a bicycle planner for the Pima Association of Governments, said the League of American Bicyclists looks solely at the city numbers rather than the county's percentage.
Tom Thivener, the City of Tucson's bicycle and pedestrian program manager, said the increase also moved Tucson up on the list of top bike commuting cities.
We have surged up to number six nationally passing many cities and catching up to the pack that includes Seattle, Minneapolis, San Francisco and Washington D.C.," Thivener said.
In 2009, Tucson had dropped to twelfth.
Despite our rise, Tucson is still much lower than Portland, the only large city that has received a platinum rating from the League of American Bicyclists. Portland's percentage is just above 6 percent. Smaller Platinum bike-friendly cities Davis and Boulder have percentages of 23 and 10 percent respectively.
In addition to the overall increase in bike commuters, Chanecka and Thivener were both pleased to see the percentage of women riders increase too. In 2009 about 27 percent of commuters were women. This year, 35 percent of bike commuters were women.
Both Thivener and Chanecka said several factors have led to the increase in ridership.
"I think there are several things going on at once here," Chanecka said. "In the last couple years there have been some major investments and we are starting to see some benefits of that."
Chanecka mentioned the river path system, the planning and publicity of low-stress bikeways and buffered bike lanes as some of the improvements that have helped encourage more people to commute on their bikes.
Thivener said that even though no bike boulevards had been created during 2010, the publicity and open houses have shown residents that those easy to use bike routes already exist.
They also credited events like Cyclovia for getting people out on their bikes.
"Cyclovia is a powerful event, it changes people's attitudes and habits," Thivener said.
Lastly, both planners suggest advocacy groups like Living Streets Alliance and increased news coverage of bicycling have played a roll in increasing the number of commuters on the road.
Jaimie Galayda is one of the new commuters on the road, but she didn't start because of Cyclovia or or low-stress bikeways. She started riding because she got a new job that made bike commuting feasible. She did say however that improvements to the Mission and Starr Pass intersection have made her commute much nicer.
She said the biggest motivator is the people around her when she was in college that were bike commuters and inspired her.
Advocates often suggest high gas prices will do more to get people out of their cars and onto bikes than anything else, but Thivener said he doesn't believe gas prices are much of a factor.
"I believe in 2008 gas was more expensive," he said. "Our ridership did not peak that much then."
According to GasBuddy.com, the highest price of gas in 2008 was more than a dollar higher than in 2010.
Additionally, Tucson has some of the lowest gas prices in the country, but the country as a whole didn't see a large increase in commuters like Tucson did.
Whatever the reasons, Chanecka and Thivener said the numbers indicate the region is on the right path.
"I think it means we are getting there," Chanecka said. "There is still a lot more that can be done. It shows we are going in the right direction.  I am certainly excited about the fact that we haven't ever seen numbers like this. Previously it was hovering around the two percent level so showing a significant increase is great."
Check out the the sortable database of bicycle commuter percentages broken down by cities across the United States: (Use the square arrow icon on the right to see the database in a full screen)

You can also check out the raw data for yourself here. Click on "back to search" button and then click on the "geographies" tab to search the county or city data.