Editor's note: Karilyn Roach wrote this post. She holds a MS in Urban Planning from the University of Arizona and works as a Program Coordinator with Watershed Management Group, a Tucson non-profit. She currently sits on the Tucson-Pima County Bicycle Advisory Committee and rides a Jamis Aurora Elite.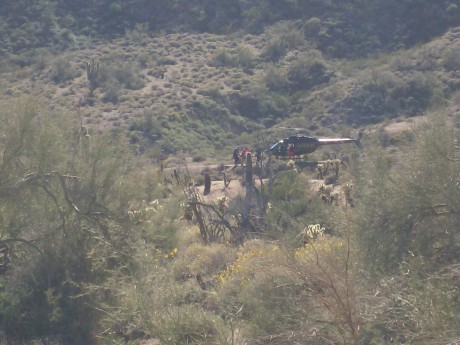 Two riders were injured during time trials that were intended to establish starting position the day before the Fat Tire 40 mountain bike race at McDowell Mountain Regional Park in Fountain Hills. Both were injured while navigating a difficult section of the trail called The Ledge.
Maricopa County Sheriff Department officers arrived at the McDowell Mountain Competitive Track parking area, followed by a County Search and Rescue ambulance in response to the first call for assistance for a female rider. She suffered an injury to her leg and was able to get off the course and received assistance at the first aid tent. She was transported off site in the ambulance.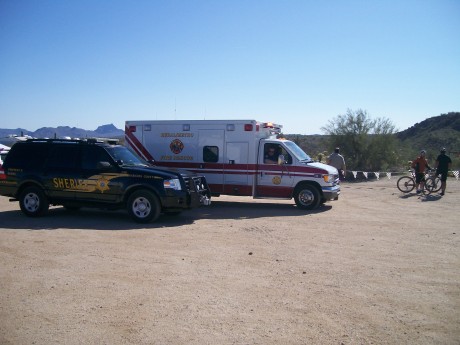 The officers and rescue personnel received the second call while en route on the first call. Riders who witnessed the second crash said a male rider hesitated before the Ledge, but his momentum took him over his handlebars. Reports said that he was unconscious for a brief time. A Sheriff Department Search and Rescue helicopter was called in to evacuate the man from the trail.
Riders who had started their time trials were called in from the track to allow rescue personnel to assist the injured rider. Following an hour delay, time trials resumed, beginning with those who had been called in. Race organizers urged riders to be careful and ride within their ability.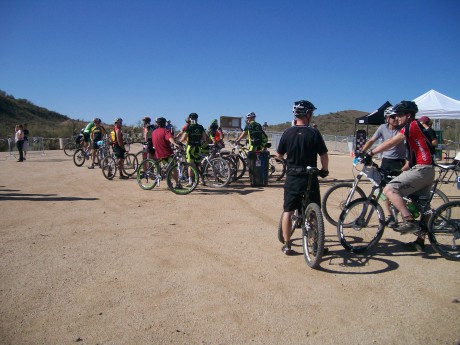 The time trial was not required to qualify for the race, only to determine starting position.
Understanding the difficulty of that section of the trail, race organizers had approved a bypass of The Ledge, but riders were given the option. Following the two crashes, race organizers chose not to make the bypass mandatory, allowing racers to continue to make the choice for themselves.
The remainder of the time trials went off without incident. Stay tuned for a report on the race itself.