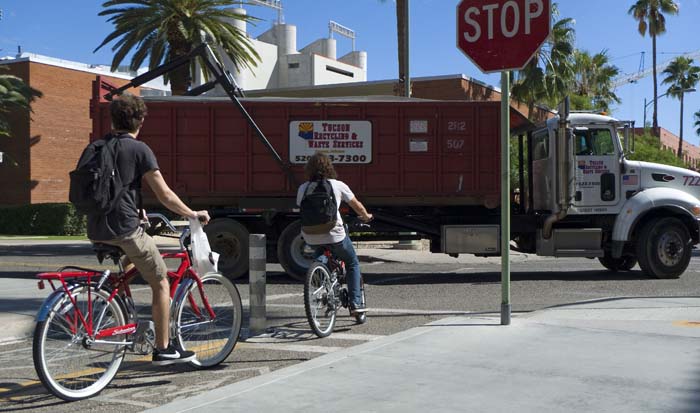 Cyclists hoping for a respite from increased enforcement against bicycle violations will have to wait another month to relax.
Following in Tucson Police Department's footsteps, the University of Arizona Police Department will begin its own increased enforcement of cyclists starting Friday and lasting at least until the end of October.
UAPD spokesperson Sergeant Juan Alvarez said this is the second year the police department has targeted cyclists.
According to Alvarez, UAPD received numerous complaints when school started last year which prompted them to create a two-phase plan to get cyclists to obey traffic laws.
According to a UAPD press release, the department had five education sessions where officers and bike ambassadors stopped cyclists violating the laws to educate them about traffic laws, which Alvarez said was the first phase. Four of the five education sessions took place around stop signs. Only one didn't focus on stop sign violations.
The second phase is enforcement and will begin Friday.
"Traffic laws are there to help keep us all safe, but in order for them to work we have to voluntarily obey them," Alvarez said.
He said the department wouldn't limit the enforcement to bicycles, but would also look for pedestrians and motorists ignoring the laws.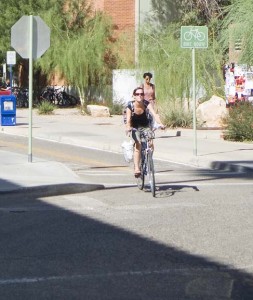 Melanie Meyers, a UA graduate student and publisher of UtilityCycling.org said she wants to the the UA equally enforce the laws.
"I think if they are going to target stop signs, they should make sure to target cars and bikes," Meyers said after she stopped at the stop sign at Highland Avenue and Fourth Street, a sign that is is regularly ignored. "I know that is vocabulary and the rhetoric, but I just want to see truly equal enforcement."
According to Alvarez, the fine for running a stop sign on campus is $204, an amount UA student Alex Partida said is excessive.
"I think that is pretty steep and kind of ridiculous," Partida said shortly after rolling through the same stop sign at Highland Avenue and Fourth Street.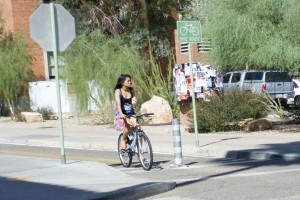 "We should follow the rules of the road," Partida said. "I was just in a rush so that is why I disregarded the stop sign when I saw there weren't any people around. If there are cars, I will stop though."
It is that behavior that Alvarez said is dangerous.
"It is really important because bicyclists are more at risk of suffering more injury than someone in a car," Alvarez said.
Meyers said that is one of the main reasons she always stops at stop signs.
"I stopped because it is a stop sign," Meyers said. "I think I learned in driver's ed when I sixteen years old that that is what you do when you see a big red octagon.  All joking aside, I always stop. First of all it is the law, I know a lot of people feel like it is a loose law in some ways, but I just want to make sure people at the stop sign see me."
According to Alvarez, information about the new diversion program for cyclists ticketed on campus will be included with the citations.