Last week, the Pima Associates of Governments released a 165-page draft bicycle and pedestrian plan prepared for the University of Arizona.
The study, which was prepared by Portland-based planning company Alta Planning and Design, "aims to improve existing and future bicycle and pedestrian conditions for students, faculty, staff, and visitors."
Officials from Alta will be at tonight's Tucson-Pima County Bicycle Advisory Committee meeting to discuss the plan and its findings.
A public open house is set for 6-7:30 p.m. on Thursday, June 14, at the UA Swede Johnson Alumni Building, 1111 N. Cherry Ave. The open house is designed to let the community check out the plan and offer comments on it.
The study suggests that 40 percent of the people who drive to campus live less than five miles away, creating an opportunity to encourage that group to utilize non-motorized transport to get to campus.
The study found five overall objectives to improve conditions on campus. They are:
• Reduce collision risk: Identify potential conflict points on campus and create solutions to better
manage bicycle and pedestrian flow.
• Improve existing infrastructure: Identify strategies to develop and enhance the existing campus and
area bicycle and pedestrian infrastructure with a focus on access, connectivity, and safety.
• Develop design standards: Define bikeway and pedestrian infrastructure standards to guide future
development.
• Increase bicycle and pedestrian mode share and safety: Guide development of both marketing and
education programs to increase mode share and safety.
• Implementation: Outline implementation strategies to help the University of Arizona and the City of
Tucson carry out the specific recommended improvements and programs.
The most interesting part of the report is the recommendations, which start on page 89 of the report. They are:

View UA Bike/Ped improvement suggestions in a larger map
1. Cycle track around UA Mall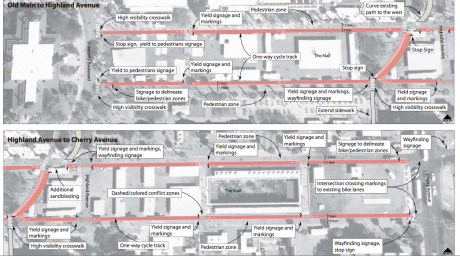 The planners propose putting a cycle track around the University of Arizona Mall to reduce conflicts between cyclists and pedestrians. The proposal includes putting a cycle track on both the north and south side of the mall eliminating the section of the mall that is currently off limits to cyclists.
Estimated cost: $22,000
2A. Improve 5th Street and Euclid crossing (short term)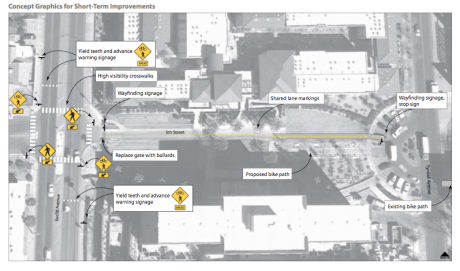 The report suggests improving the 5th Street and Euclid crossing by adding better signage, adding sharrows along 5th street and creating a bike path into the university on the east side of Euclid.
Estimated cost: $11,000
2B. Add toucan to 5th Street and Euclid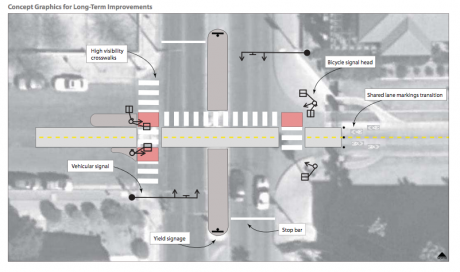 The report suggests in the long term a Toucan should be installed at the intersection to make it the prime entrance into the University of Arizona for east/west bound cyclists.
Estimated costs $250,000
3A. Improve multiple 6th Street crossings at Tyndall, Park, Fremont, Santa Rita and Cherry
The report suggests many items to make it easier for bikes and pedestrians to cross 6th Street. Some improvements include adding a toucan at Tyndall and 6th. Reconfigure the Park Avenue and 6th Street intersection and add a crosswalk at Santa Rita.
Estimated cost: $413,000
3B. Perform a road diet on 6th Street from Stone to Campbell with buffered cycle tracks
The report suggests performing a road diet along 6th Street from Stone to Campbell Avenues. The travel lanes would be reduces from two in each direction to one in each direction and would add a buffered cycle track, add landscaping and sidewalks.
Estimated cost: $1,000,000
4. Extend Highland Avenue bike path from Helen to Mabel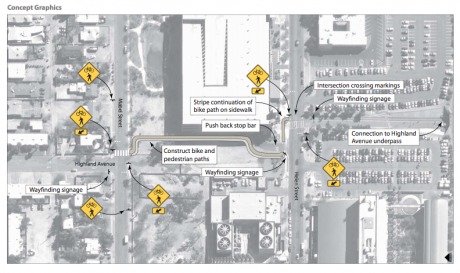 The report suggests adding a one block section of bicycle path along the westside of the Highland parking garage to allow cyclists to continue north through the area, which would reduce congestion at Mountain Avenue and Helen.
Estimated cost: $19,000
5. Cycle track adjacent to streetcar line on Second Street
The report suggests creating a cycle track parralell to the streetcar route on Second Street from Park Avenue to Highland Avenue. The cycle track will prevent conflicts with the streetcar.
Estimated cost: $56,000
6. Improvements to Mountain Avenue from Helen to 2nd Street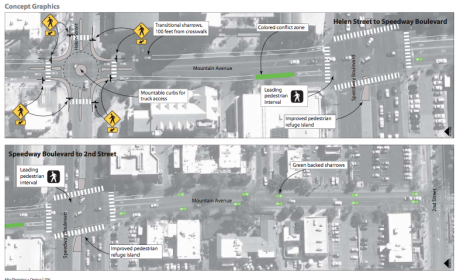 The report suggests creating a small traffic circle at Mountain Avenue and Helen to help reduce conflicts at the intersection. They also suggest improving pedestrian refuges and adding sharrows south of Speedway Boulevard.
Estimated cost: $34,000
Broad recommendations were made for the areas surrounding the University of Arizona. Download the report and read those recommendations starting at page 107.
Here are some of the other interesting tidbits from the report.
There are 9,699 short-term bike parking spots on campus. 96 percent of them are "inverted U" type racks.
There are 1,700 long-term bike parking spots on campus including bike enclosures, lockers and residence hall bike rooms.
There have been 1,083 reported bike crashes from 2007 to 2010 within the study area, which is five miles around the UA. More than half resulted in minor injuries. One percent were fatal.
In the same time period, there were 848 pedestrian crashes, while 5.5 percent were fatal.
Reported bike thefts from 2006 to 2010 have declined by 25 percent.
Nine percent of UA employees rode to work in 2010, which is up from 7.9 percent in 2007.
67 percent of UA employees drive to work alone.