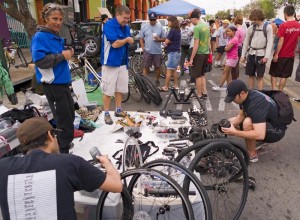 The Greater Arizona Bicycle Associaton bike swap offered cyclists the opportunity to get rid of their extra parts, their bikes or take home a few new treasures on Sunday.
GABA president James Harmes said a lot of work goes into the event, which the organization puts on twice a year.
"We've been doing this for 15-plus years." Harmes said. "It is just a way to bring the community and cyclists together for everybody to see what everybody has and find great deals."
San Diego resident Sky Boyer said he attends a lot of bike swap meets across the country, but likes Tucson's swap the most.
"I've come to every one of these swaps for the last eight years. I love the Tucson swap. I do a lot of bike swaps and Tucson has by far the best atmosphere."
Boyer said the fact that the swap meet is free makes it really fun.
"The other swap meets cost a minimum of about $75 to get in and you only get professionals," Boyer said. "This one, people will come out with a shoe box of stuff.  It is kind of cool that way. People will come with just a little bit of stuff, sell it and go home."
BICAS education and outreach co-cordinator Kylie Walzak said being at the bike swap is good exposure for them.
"We are here at the bike swap letting people know about BICAS," Walzak said. " Also, we have found that at the end of the bike swap if we go up and down the street with a truck and ask people to donote stuff they didn't sell to BICAS, they do it.  That helps BICAS a lot."
See all the photos from the GABA bike swap.