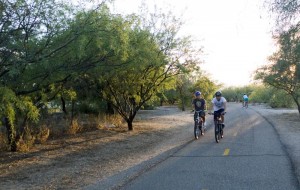 Pima County's Parks and Recreation Department will begin maintenance work on the Rillito and Santa Cruz river paths this week.
The work, which includes repaving and replacement of drainage scuppers, may require closures of the paths.
According to the Pima County website, the work will begin Monday on the north section of the Rillito path between First and Campbell Avenues and will last about a month.
After the Campbell to First section is completed, the county will move to the western section of the Rillito and work east.
The county suggests cyclists use River Road as an alternative between First and Campbell because for the time being, bikes are prohibited on the south side of the path.
Work will also begin on portions of the Santa Cruz river path on Monday.
Check out the Arizona Daily Star's post about the closure.
Check out the tentative schedule below to see where crews will be working and plan alternative routes:
Santa Cruz River Park Repairs
Please use opposing bank trails during this process or other alternative routes.
Irvington to Ajo, West Bank: 1/3/11 through 1/7/11
Irvington to Ajo, East Bank: 1/10/11 through 1/14/11
St Mary's to Speedway, West Bank: 1/17/11 through 1/28/11
Speedway to Grant, West Bank: 1/17/11 through 1/28/11
Grant to Ft. Lowell, West Bank: 1/17/11 through 1/28/11
Speedway to Grant, East Bank: 1/31/11 through 2/4/11
Grant to Partial Delv., East Bank: 1/31/11 through 2/4/11
Rillito River Park Repairs
Scupper replacements: 1/4/11 through 2/04/11
First to Campbell, North Bank including Bridge: 1/04/11 through 1/28/11
Railroad to Camino de la Tierra, South Bank: 2/7/11 through 2/11/11
Camino de la Tierra to La Cholla, South Bank: 2/7/11 through 2/11/11
La Cholla to La Canada, North Bank: 2/14/11 through 2/18/11
La Canada to Oracle, North Bank: 2/21/11 through 2/25/11
Oracle to Stone, North Bank: 2/21/11 through 2/25/11
Stone to First, North Bank: 2/28/11 through 3/11/11
Campbell to Brandi Fenton Memorial Park, North Bank: 3/14/11 through 4/1/11
Campbell to Dodge, South to North Bank: 3/14/11 through 4/1/11
Dodge to Alvernon, North Bank: 4/4/11 through 4/15/11
Alvernon to Swan, North Bank: 4/4/11 through 4/15/11
Swan to Craycroft, North Bank: 4/4/11 through 4/15/11
Dodge to Swan, South Bank: 4/18/11 through 4/22/11