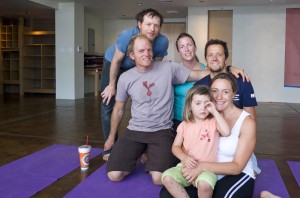 Ross Evans, the founder of Xtracycle, is returning to his roots in the Old Pueblo.
Evans, a graduate of University High School, is bringing Xtracycle's Holishift Tour to Tucson.
Evans said the main purpose of the Holishift Tour is to do things you love to make a positive change in the world.
"Holishift engages people," Evans said. "What are the stories, what are the conversations, what is the process to figure out what we love and how that is going to make positive changes?"
Evans said the Holishift Tour also allows people to check out Xtracycle bikes and raise awareness for Evans' charity World Bike, which helps people in developing countries utilize bicycles for improving their lives.
The idea for Xtracycle was born when Evans went to work in Nicaragua for Bikes not Bombs as a welder and mechanic.
Evans said the people in Nicaragua wanted to make cargo bikes so he spent a lot of time working on ways to convert a regular bicycle to a cargo.
When he returned to the United States he began working with Kim Young and Allen Reilley, both of whom were early BICAS co-directors and were interested in what he learned building cargo bikes in Nicaragua.
In 1998, Evans said he received a grant for collegiate inventors that prompted him to start the business, which he hoped would help support World Bike.
"That inspired me to try start the company with the idea that the company would ultimately make money and support our nonprofit work with World Bike," Evans said.
Evans and the Holishift tour will be hosting an event at BICAS on Saturday at 5 p.m. There will be food, Xtracycle rides, new product demos, a presentation by Evans about Holishift and a community bike ride.