Editor's note: Karilyn Roach wrote this post. She holds a MS in Urban Planning from the University of Arizona and works as a Program Coordinator with Watershed Management Group, a Tucson non-profit. She currently sits on the Tucson-Pima County Bicycle Advisory Committee and rides a Jamis Aurora Elite.
Those palo verdes are looking awfully amarillo these days. And was that splash of pink I just saw on the side of the road penstemon? The signs all point to my daily commute up Via Entrada getting warmer… and lovelier.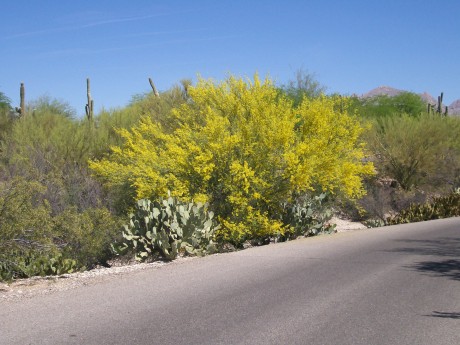 Prickly pear led the charge with its delicate yellow and peach flowers. The hedgehog cactus was the other early starter, but I am noticing fewer than I did just last week so I hope he isn't finished yet.
Brother ocotillo is almost done until monsoon season, but the staghorn cholla is just beginning to explode onto the scene with his purple, peach, and blood red.
The saguaros are getting in on the action too. (Didn't it seem like these old ladies started showing off a little early this year?)
Then there is my little friend, Granada (pomegranate), waiting to welcome me when I get home.
Don't forget to keep your eyes peeled for lizards in your path while you soak in the beauty of (early) summer in the Sonoran Desert.
There are a few more pictures below. Share your favorite sights and sounds of spring and summer in the desert in the Comments section.