We've been car light for a week and we are loving it.
Check out the before and after pictures: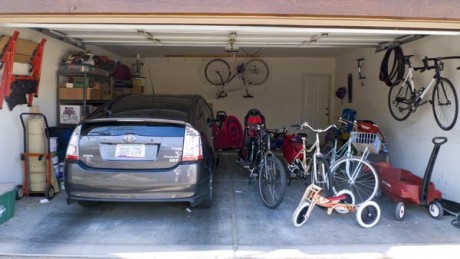 Looks like there is some room for more bikes now!
Irene has also been riding a lot more now too. Unfortunately, her first solo trip with Luci ended with a flat tire. Luckily, it happened right outside of their destination so they made it to swim lessons. I swung by and fixed the flat and got us home.
The next day we added thorn resistant tubes and tire liners. New tires are also on the way.
Her second solo trip went a lot better. She rode to yoga and was stopped at a stop sign when a man in a car asked her about her crazy bright blinky light. A few moments later as he drove by her, he yelled, "I AM VERY IMPRESSED WITH YOU!"
Luci has also been enjoying the riding too. We had to take the car the other day and as we were putting her in the car, she started pointing at the bikes and tried to get out of the seat. I love it.