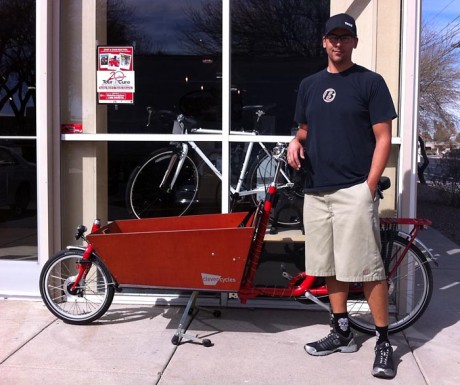 Trek Bicycles of Tucson manager Duncan Benning just got his Bakfiet cargo bike a little over a week ago, but it's been something he and his wife have been thinking about for years.
They have been a one-car family since they got married and kept that up even when they had kids.
They have family in Portland and spend a lot of time looking at the Bakfiets at Clever Cycles, which is one of the only distributors in the country.
Benning says they spent two years researching the bike, what options they wanted and whether they could find a U.S.-made bike similar to the Bakfiet.
Ultimately they decided the Bakfiet was the right choice and ordered it from Clever.
So far he says they are loving the bike and they are really happy they got it.
It's clear from the little footprints and rubber rooster in the cargo area that the kids are enjoying it too.