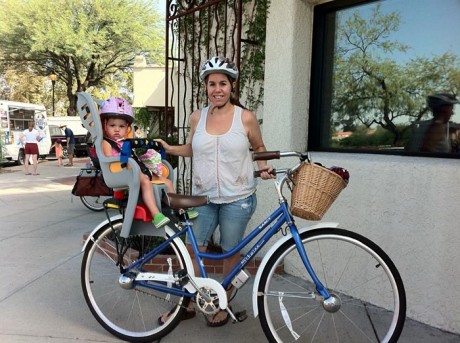 Meghan Reilly hasn't ridden much since her 17-month-old daughter was born, but she says they are starting to "get back into the swing of things."
Her Schwinn "Nancy" was a gift, but hasn't seen a lot of action since Scarlett was born.
Meghan, who says she drives a lot for work during the week, is trying to replace her car trips with bicycle trips on the weekends including a Sunday trip to the farmers market.
Meghan and Scarlett live near the Rillito River path, which they use a lot, but they are trying to find other safe routes to get to the places they want to go.
Meghan grew up here, but moved away to the Bay Area. She says Tucson is surprisingly bike friendly, but she wishes there were more streets like Third Street and more separated paths like the Rillito.
She says her favorite thing about riding her bike certainly isn't the heat. Although anything on the bike is fun and better than being in a car.
For now, because of the heat, their favorite ride is to the splash park ar Brandi Fenton Memorial Park.