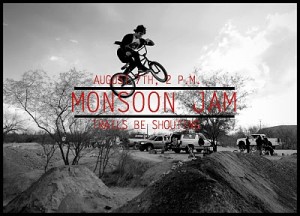 Local BMX riders are hosting a "jam" on Saturday to show riders who are in town for the American Bicycle Association's BMX Southwest Nationals what Tucson's BMX community is all about.
According to Rocky Serna, the creator of Barrio Trails BMX park, the jam starts at 2 p.m. Saturday and will likely go until it gets dark.
Serna said a BMX jam is similar to a music jam session.
"It's not contest or anything, its literally just a bike party," Serna said. "It is a bunch of people getting together and having fun."
Serna said there aren't very many places for BMX riders to show off their tricks and with the thousands of cyclists in town they want to highlight Barrio Trails.
"It puts us in the national eye," Serna said. "People come from all around the country to race Southwest Nationals when they are not racing, where do they go? The trails are the spot."
Serna said the jam is open to anyone and often the riders' parents will bring their grills, tents and spend the afternoon watching the riders.
Barrio Trails is located south of Park and Broadway at the intersection of Miles Street and Fremont Avenue.