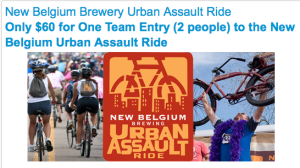 If you were on the fence about participating in the New Belgium Urban Assault ride this weekend, the Arizona Daily Star's Groupon knockoff, Get it Today, has a deal for two entries to the race for half off.
Normally the entry would be $120 for a team, but the offer knocks it down to $60.
The primary beneficiary of the event is Sonoran Desert Mountain Bicyclists, a group advocating for mountain bikers in Arizona.
Check out the deal here.