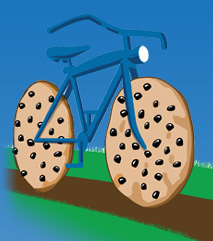 What: Tour de Cookie
When: 9 a.m. Sunday
Where: Starts and finishes at Old Main on the University of Arizona campus.
Description: Riders will race/cruise between eight cookie stands around midtown Tucson and attempt to eat as many cookies as possible. Prizes are awarded to the cyclists who visit the most stands, eat the most cookies and do it the fastest.
How much: $40 per person, which includes $25 in cookie credits, a long sleeve t-shirt, medal and a donation to the Tucson Kids' Try-athlon. Kids 12-and-under are free and will given a t-shirt and $25 cookie credit.
More info: http://www.tourdecookie.com