Editor's note: Travis Woodruff is a Tucson-based cycling coach (USA Cycling certified Level I Elite Coach) and founder of Momentum Endurance, a coaching business. On Monday, Travis will begin providing bi-monthly training columns to help you take your cycling to the next level. If you would like more personalized service, contact Travis.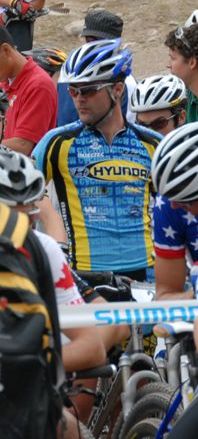 How, why and when did you get into cycling?
I got into cycling during my middle school years and it was a great diversion from the typical team sports that I had otherwise tried in school. I started mountain biking with friends and was hooked from the beginning. I wasn't necessarily any better at riding than I was with the other sports I had tried, but being outdoors, exploring, working hard, and hanging out with friends all made cycling the perfect combination. Over the years I've steadily improved and I continue to love riding more and more. I've been a cyclist since the age of thirteen and it's been a great fifteen years!

When did you decide you wanted to coach?
I was a sophomore in college when I decided that coaching would be a great fit for me and an opportunity to pursue something that I was passionate about. Six or seven years prior to this I was already conducting my own graded exercise tests on a trainer in my parents' basement and was really into exercise physiology, even before I knew what exercise physiology was. Enabling others to improve their fitness or preparing them to compete at levels higher than they may have thought possible makes coaching a rewarding profession so I'm glad that I went for it.

How did you go about becoming a coach?
I had already taken some introductory Kinesiology courses, so the next steps for me were to declare it as my major as well as starting the certification process through USA Cycling that year (2003).  I started coaching a few local riders to gain experience and have continued ever since. Since 2008 I've maintained the Level I (elite) coaching certification through USA Cycling and I've had some great mentors along the way.

Who have you coached? Any notable accomplishments of cyclists you have worked with?
I've worked with some athletes for five plus years along with many who are more recent.  Three riders I've coached have won national championships and others have won state titles too. Working with junior riders as well as riders who are in their fifties means that I see a true cross section of the cycling population. Riders who focus on road biking and others who focus on mountain biking are all part of the mix. The one common trait among all those who I work with is a willingness to work hard and to learn what it takes. For some this means racing at an elite level while for others it means keeping diligent to improve fitness while dropping the extra body weight. Everyone makes incredible accomplishments as long as they're committed to put in the effort so that I can help them along the way.

How does a coach benefit cyclists at various levels of fitness?
In order to improve, it's important to work at or near the limit of what is already possible. Learning how much to train, how hard to train, and how to recover properly are the important considerations regardless of the fitness level you're starting with. A good coach can help a rider identify exactly what it is that will allow them to further their improvements.  Learning 'what it takes' is a big part of what the rider can and should take away from the coaching experience. A coach can help to identify the necessary steps and then direct the rider accordingly.

What would it look like if you were my coach and how much would it cost?
Communication is the essential part of the coaching interaction. Information regarding your training and how you're progressing is highly valuable to me. Training devices (such as powermeters, HR monitors, or GPS) provide me with objective data so that I can 'see' your daily workouts while our conversations and emails provide subjective information to complete the picture. Knowing how you perceive things to be going is equally important as to what the data shows. Training is very much a learning process so with frequent communication there is always time for you to ask questions so that you can better understand what you're doing and why you're doing it. It is especially important that we are able to strike a good balance so that the training works well with your day-to-day life. This way you can make improvements, recover, and still have plenty of energy for your normal day-to-day responsibilities. To help keep organized we'll use the premium TrainingPeaks online system so that we can share your custom-built training plan on the calendar along with specific workout notes and your training files all in one place.
As with most services, the value of coaching can best be outlined in terms of the time commitment. I offer multiple coaching levels, all of which include a healthy amount of interaction and can viewed as premium services. Options costing more budget in greater review of your training data and allow us additional time spent discussing nutrition, tactics, or whatever else will help you the most. It takes time to develop as an endurance athlete so I like to have a minimum of six months and the mindset of working hard over the long term in order to fully benefit from the training is awfully helpful.  More details on coaching levels and pricing can be found on my website.

Anything else you would like to add?
Check out www.MomentumEndurance.com for more details or sign up for the monthly email newsletter via facebook here. See you out on the roads and trails!
Be sure to check out Travis' first column about block training on Monday. If there is anything you would like Travis to cover, please leave a comment.