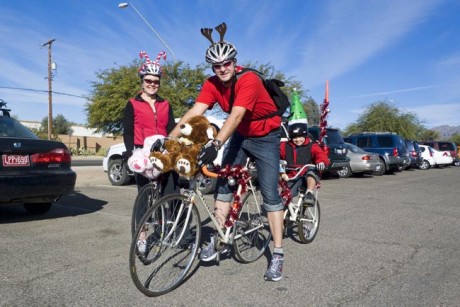 The holiday season is upon us and so is the Greater Arizona Bicycling Association's annual Toys for Tots bike ride.
This Saturday at several locations around Tucson, cyclists will dress in spandex and Santa hats or other holiday outfits. They'll deck out their bikes with tinsel and Christmas lights. And they will strap toys to their bikes all in the name of making the holiday season a little more merry for local youth.
Here's what GABA gas to say about the event:
Are you interested in participating in the Toys for Tots program (sponsored by the US Marine Corp), but also want to do your Saturday morning bike ride?

If so, you are in luck as this is both, all rolled into one!

The GABA Solution: Three groups of cyclists begin rides from three different locations. Each ride leaves at different times in the morning and ride at different paces. The goal is for all groups to meet at the same place, which is the Reid Park Zoo, at nearly the same time (around 10:30 am). Sharing the excitement generated by the reason for the ride: helping needy Tucson children to have a Merry Christmas by transporting toys from the seat of a bicycle to the Reid Park Zoo, makes for a pleasant trek around town.

Reid Park is offering GABA a 50% discount off the regular zoo fee this year. All you need to do is mention that you are with GABA at the ticket booth and you will only pay one of the following fees: Seniors (62+) $2.50; Adults (15-61) $3.50; Children (2-14) $1.50; Children 2 & younger with parent – free.

Once inside the zoo simply place your toy or toys into the giant acrylic toy box and then you are free to 'walk to the animals' or take a visit-break with your fellow cyclists at the Zoofari Café which, by the way, is always stocked especially for us that morning with 'breakfast-type' (bagels, sweet rolls, muffins, etc) items.

Your bike will be safe for the duration of your zoo experience, as El Grupo will provide Free Bike Valet Parking for all, on the large grassy area between the zoo and pool buildings, until 12 noon.All ride details will be in the November issue of the GABA UPDATE newsletter and will also be posted to the GABA Website.
Check out the GABA website for the various ride options. Also check out the Tucson Cargo Bike Facebook group's event. They hope to show the GABA roadies a better way to haul toys.
Here are the photos from last year's event: