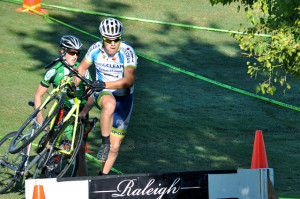 After a five year hiatus, Cyclocross racing is returning to the Old Pueblo on Sunday.
With cross racing growing in popularity, race promoters Dan Maher and Chris Ramsey decided it was time Tucson had its own race.
Maher said the race, which has several categories and starts 9 a.m. at Quincie Douglas Park, is part of the AZ Cross Series — a series of cross races held in Phoenix for the last five years.
Cyclocross races generally feature laps around a short course on various types of surfaces including, grass, sand and pavement. The courses also include obstacles like hay bales requiring riders to dismount and jump over them with their bikes.
Maher said the last cross race in Tucson was held in 2006 and since then no one has tried to organize one here.
"Chris Ramsey and myself really, really wanted to have an event here so we kind of took it upon ourselves to put one on here," Maher said.
Maher said he hopes a lot of people come out to race or at least watch. Cross racing it generally considered one of the best events for spectators.
"I  am really hopeful that it is going to take off and people are going come out and have a really good time," he said. "Hopefully next year we'll be able to put on more than one race down here."
Maher said people shouldn't let the lack of a cyclocross bike keep them from racing. Raleigh Bicycles has provided some demo bikes for people to use on a first-come, first-served basis and mountain bikes can be used too.
Online registration ends tonight at 10 p.m., but racers can also register at the event on Sunday. Check out the race website here.