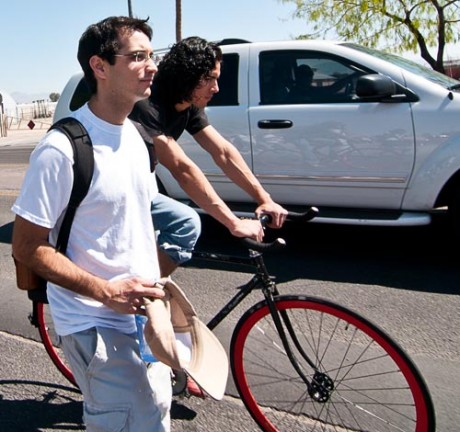 Make: old 1970's ish road bike
Model: [model]
Color: black (chipped due to chain lock)
Serial # : N/A
Purchased: built myself, rims (online), chainring, chains, tires, etc purchased at various bike shops and bicas
Where stolen: tucson, arizona
Time: between 6-9pm
Date stolen: 07/11/2011
Type of lock: thick chain lock
Report #: U1107110029 (UAPD report)
Unique traits: Black frame (paint was shipped due to my lock, black wtb seat, red weinmann deep v rims, custom bullhorn handle bars with black handle bar tape(with a pic of a little red frog as the handlebar cap) serfas tires, campo pedals with metal foot cages (black nylon straps)). Her name is ingrid.
Theft description: stolen outside of the optical sciences building at the university of arizona main campus between 6-9pm. my chain was cut while it was parked at the bike rack on the south west side of the bldg.
If you see the bike, contact the police and Joseph.