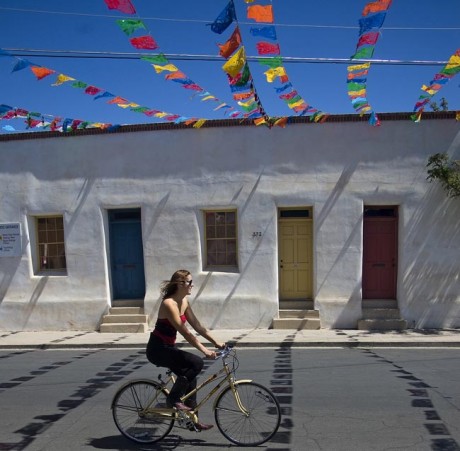 Bike Fest, the celebration of all things bicycle in Southern Arizona starts in just over a week.
So far there are 13 events scheduled including the headline events: Cyclovia and Bike to Work Week.
You can check out the entire list on the Bike Fest website, but here are a few highlights:
Cyclovia Tucson: Sunday March 18, 10am-3pm
Cyclovia Tucson is the third annual car-free event that opens selected streets to people for nonmotorized activities. The event starts at 10 a.m. and ends at 3 p.m.
The route starts in downtown Tucson at Armory Park, then takes a 5-mile loop heading into South Tucson and back.
Check out the Cyclovia Tucson website to see what activities you'll see along the route: www.cycloviatucson.org
Check out the images from last year's Cyclovia at the bottom of the post.
Bikes and Tykes: Sunday March 25 at 11 a.m.
This event is a follow up to a biking with kids event we organized in the fall. This time around the Bikes and Tykes Expo will be held at Mercado San Agustin and will allow families to learn more about riding with kids.
Experienced family bikers will be on hand to show off their gear, answer questions and provide test rides.
Check out all the details here.
Bike-to-Work Week 2012: April 9-13
Bike-to-Work Week is a weeklong event to encouage people to try using two wheels instead of four to get to work and reward those people who are already riding their bikes.
During the week, businesses will provide deals and goodies to people who bike to and from work.
The Bike-to-Work Week events culminate in the Downtown Bike to Work Celebration where cyclists can enjoy free food, live music as well as the commuter and advocate of the year awards.
The schedule and swag locations have not been posted yet but will be on the Bike-to-Work week page here.
Cyclovia Tucson 2011 photos:
2011 Bike-to-Work Week photos: