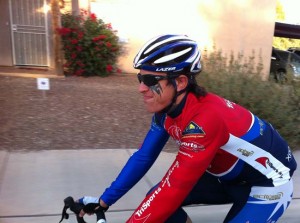 In under three years, Victor Riquelme has gone from barely completing a 40-mile bike ride to racing professionally.
On Monday, Riquelme signed a contract with Wonderful Pistachios Pro Cycling — a UCI Continental team.
Riquelme says he'll still have to work full time as a cook at Feast, but the team will provide him with equipment and entry into elite national races.
Riquelme's rise to professional bike racer has been exceptionally fast.
In January 2008, Riquelme rode a touring bike he built to Colossal Cave.
"It was the hardest thing I have ever done," Riquelme says. "It was like 40 miles and I was limping around for a week after that."
Riquelme says it is the Saturday shootout that got him hooked on bike racing.
"That was a big thing for me," he says. "I showed up on my steel touring bike with fenders. I got dropped at Valencia —  you know — at the start."
He kept going back each week, purchased a better bike and started keeping up with the group and after finishing the 2008 El Tour de Tucson — his first organized ride — in 4:51, he joined Team Aggress a Tucson-based developmental cycling team.
After winning the Tucson Bicycle Classic as a Category 5 racer in 2009, he says he started being coached by Jimmy Riccitello, a professional triathlete.
"I raced a lot in 2009 and I won a lot too," Riquelme says. "I ended up finishing the season as a Cat 2."
He joined the TriSports.com/Eclipse cycling team for the 2010 season and after a few top-three finishes he upgraded in April.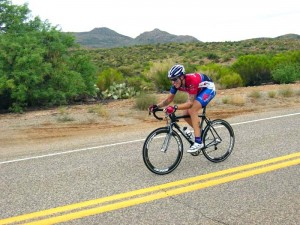 After upgrading he says he rode in some big races like the Tour of the Gila and La Vuelta de Bisbee, which proved difficult for him.
"At Gila, it was awful for me," he says. "I finished last or next-to-last every day. I tried not to let it discourage me, but it was definitely very difficult for me."
Riquelme says part of upgrading is riding with stronger riders and getting better. This year he is focusing his season on the Redlands Bicycle Classic and the US Pro Criterium Championship.
According to Riquelme he is racing locally as a way to prepare for the bigger national races that he'll race with his new Wonderful Pistachios teammates.
He says he appreciates all the help his former teammates and people in the community have given him.
"The teams I was on were a big part of helping me have the success I have had in the sport," Riquelme says.
For Riquelme his goal is make bike racing his full-time job one day, but knows it will take some time.
"I'd like to be able to get to a point where I can ride my bike full time and focus on that," he says. "It is really hard to train and work full time. That is what I am working toward. It is obtainable, but it is one step at a time."