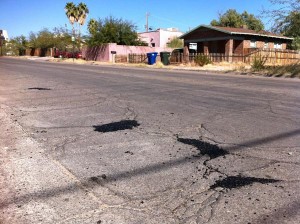 Potholes referenced in this morning's Arizona Daily Star, have been fixed.
Jim Glock, the city's director of transportation said the potholes were filled at 10 a.m.
State Representative Daniel Patterson sent an email to Tucson's Department of Transportation director Jim Glock requesting the city repair the holes.
Jim — Please fix these holes this week. I know TDoT has a tough job with limited resources, but this danger is a risk to some of my constituents who live south of Broadway and ride bikes north to UA. Bad potholes can cause death or injury to cyclists, as I'm sure you know.
Patterson was pleased with the city's response.
There is some interesting math happening in the comment section of the Star's article about how much wear and tear cars and bikes put on streets. Of course there is the usual comments about bikes not belonging on the road.