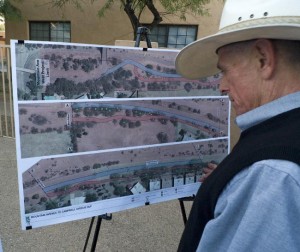 District Three Supervisor Sharon Bronson's office released a Frequently Asked Questions sheet about the creation of a divided path on the south side of the Rillito River last week.
The FAQ, which you can download here, attempts to dispel what Pima County assistant administrator Nanette Slusser describes as misinformation.
The FAQ explains what a divided urban path is, that very few trees are being removed and will be replaced with new ones and that the money being used for the project was approved by voters for recreation projects.
Slusser said the group opposed to the project are attracting additional groups because they don't have all the facts.
"The misinformation has gotten to other groups, so those other groups are jumping on the bandwagon," Slusser said.
According to Slusser, the amount of opposition hasn't changed anyone's mind in the county, but it is having an effect.
"So far it hasn't swayed anyone, but it is very uncomfortable for them," She said.
She said the path should benefit everyone in the county and it isn't the neighbors' private path.
"There is no other place in Pima County that we prohibit bicycles and there is no other place on the river park that we prohibit bicycles so there is no reason for us to prohibit them there," Slusser said.
You can email Supervisor Bronson's office about the project here.