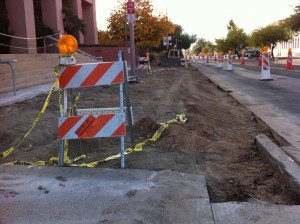 Soon it will be a little more comfortable for cyclists heading north on Highland Avenue into the University of Arizona campus.
The City of Tucson received Regional Transportation Authority money to improve the intersection, which primarily consisted of creating a bus pullout on the north side of Sixth Street just west of Highland Avenue.
According to Tom Thivener, the city's bike and pedestrian program manager, there was money left over which allowed them to push back existing curbs to add a bike lane on one side of the road.
Thivener said he chose to add the bike lane in the northbound section because of bike count data which showed it had twice as many people riding on the sidewalk after the bike lanes ended a few hundred yards before the intersection.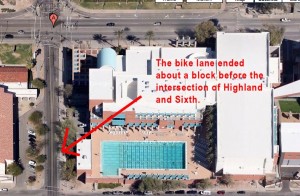 "On site visits we would see people pulling up on the sidewalk just south of the rec center," Thivener said.
Diahn Swartz, a traffic engineer for the city said the project had been delayed because of a conflict with the University, who wanted to postpone the construction until after the opening of the new rec center.
Swartz said they are also adding a ramp cutout for students who are riding southbound to the rec center.
She said many students would ride on the eastside cross walk to get to the bike parking, but with the new cutout, cyclists can stay in the southbound travel lane and make a left through the cutout which leads directly to the bike racks.
Neither Thivener or Swartz were sure when the project would be completed.